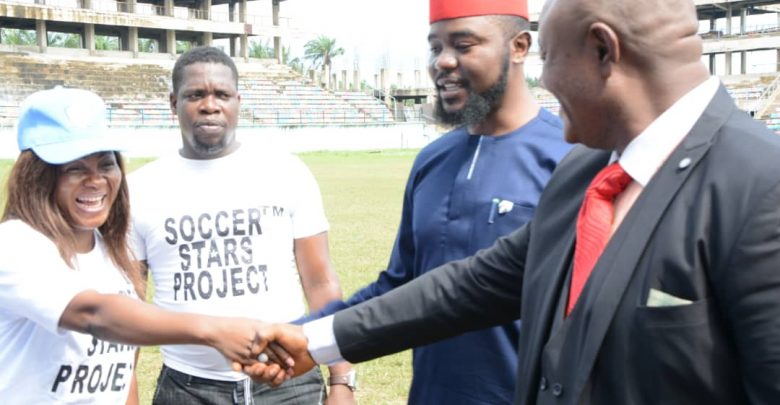 Ifeanyi Ubah stadium felt the heat of the 60goals Soccer Stars project With Ned Nwoko first day screening in Anambra State today, 14th September 2019. Grassroot players from the ages of fifteen to twenty years participated vigorously in the screening, giving in their best with the mindset of being one of the selected.
The screening exercise started at 12noon with an opening speech by Alex Nwankwo who is the head of Media and publicity of the Soccer Stars preject. He carefully introduced every member of the team to the guest, the vision, mission, significance and achievements the project has attained so far. He added in his speech that all participants should grab the project as a one time life opportunity and play their best today.
The Chief host 'Chief Amb. Ndubuisi Nzenweofor' said a few words. He started by saying that the Nzenweofor group promises to empower over 1000 indegenes each year and he will be delighted to support players selected from this project in Anambra state. He urged the players to take the screening seriously and make him proud. He thanked the organisers of the Soccer Stars project for their innovation and vision. The Attention Magazine by Amity Global Network was presented to Chief Ndubuisi by Francis Ikechukwu, who is the project manager and former under 23 national team player which contained the past screening exercise of the project in other states.
They were eight teams for today's screening, each game was timed for 30minutes. While the coaches watched carefully, twenty two players were selected by Mohammed Khaled the foreign coach and football scouts from the total of 142 players and participants for the first screening today.
Speaking to ABS, Vanguard, Igbere TV. Anambra times, Ogene Radio, Politics Nigeria, AlexReports, ATTENTION MAGAZINE, State Press, InnoNews, OtownGist, among others, the National Coordinator and FIFA intermediary agent, Ms Jane Ndubuisi told newsmen that the initiative is mandated to empower and promote indigenous soccer talents across the globe, thereby improving and encouraging soccer talents in Nigeria.
Francis Ikechukwu appreciated the Patron of 60Goals Soccer Stars Project, Hon. Prince Ned Nwoko and Chief Amb. Ndubuisi Nzenweofor for their support and interest at ensuring the success of the project in Nigeria and across their respective state. He added that 60Goals Soccer Stars Project will be continued across other states, as the Federal Ministry of Youth and Sports Development have endorsed the project as a national empowerment project in Nigeria.
While we celebrate the success of today's screening, we look forward to meeting our tomorrow's participant and rematch of the selected players who will be endorsed by the Soccer Stars for international deal.