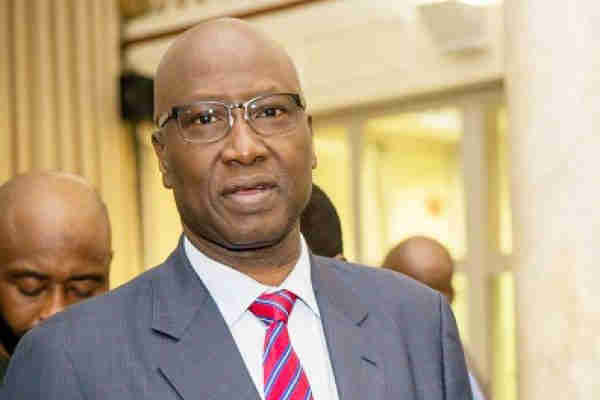 As civil servants have been directed to resume on Monday, the Secretary-General of the Federation, Boss Mustapha, has stated that those who had travelled out of their workplaces are not spared.
It should be noted that federal government, in a circular dated April 30, directed civil servants on grade level 14 and above to resume work on Monday. The circular was directed to the chief of staff to the president, secretary to the government of the federation (SGF) and all ministers, Folasade Yemi-Esan, head of service.
According to latest developments, offices would only be opened on Monday, Wednesday and Friday and close by 2 pm. When asked about the plight of those who have gone to their state of origins due to the lockdown, he said: "They were not supposed to travel. So, they must find a way of coming back. The lockdown was supposed to keep everybody down. They are on their own, they will find their way."
Mr Mustapha who is also the Chairman of the Presidential Task Force (PTF) on COVID-19 said this during the daily briefing of the PTF on Thursday. He, however, clarified that arrangements will be made for those were caught up with the lockdown while on official duties.
The PTF Chair said that there are passes and exemption letters given by some states which will be tendered on their way back to their places of work. He recalled that some members of the Nigeria Centre for Disease Control (NCDC) were transported from DR Congo amid the lockdown because they were grounded in the country after a training of the World Health Organisation (WHO).
While addressing questions on the need for parameter fencing to stop those who escape from isolation centres, Mr Mustapha explained that most of the facilities have parameter fencing and that the government is working with relevant authorities to provide security and surveillance in the isolation centres.
He, however, noted that parameter fencing may not solve the problem of those who abscond from isolation centres, citing footage which emanated from Kenya.
"In the video, I saw them throwing their luggage and jumping the isolation centre. Although we were made to know in the news that they were apprehended in a clubhouse that evening. I have not verified but I saw the clip."
"If that is true, that is what is informing my viewpoint that parameter fencing may not stop those who want to escape. They are not only a risk to themselves but the entire community. That will widen the scope."
The SGF explained the danger of absconding because "for those set of persons, it is difficult to trace their contacts."
"Once your status is confirmed and you are told to self-isolate, it is in your interest and those of your loved ones to subject yourself to that isolation," He urged.