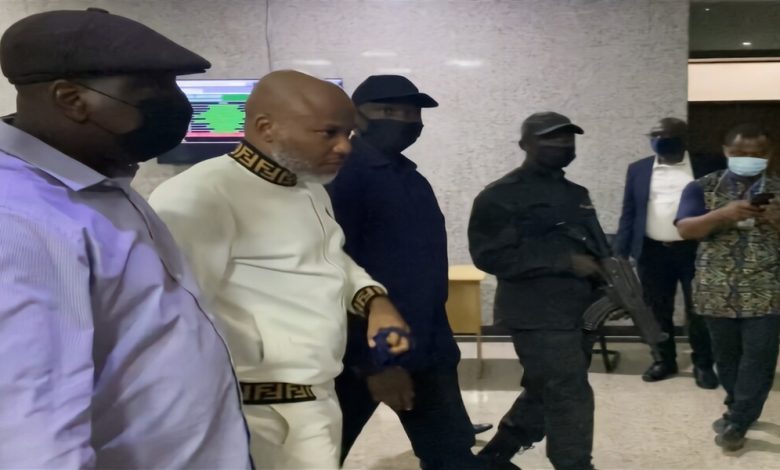 The Coalition of Northern Groups has asked President Muhammadu Buhari to exercise caution in responding to Igbo leaders' appeal for the release of Nnamdi Kanu, the founder of the outlawed Indigenous People of Biafra.
It suggested that if Kanu were set free, the North would hold Buhari accountable for the blood of northerners who were being slaughtered on Kanu's purported orders.
CNG has slammed the Igbo leaders' latest demand for the unconditional release of IPOB leaders, describing it as uncivilised.
During a news conference conducted at the NUJ Press Centre yesterday, the group's spokesperson, Alhaji Abdul-Azeez Sulaiman, warned that if President Buhari agrees to Kanu's demand for freedom without prosecuting and punishing him, Nigeria would unwittingly become a lawless state.
It also claimed that the North would no longer remain quiet if its inhabitants were purposely targeted and killed while the perpetrators were shielded by criminals posing as leaders.
The coalition maintains that Kanu's crimes are unforgivable, and no amount of pleading should persuade the president to cave in to pressure and free him unconditionally.
"Since 2021 Kanu continues to play a major role in the ongoing insurgency in Southern Nigeria as his Eastern Security Network battles the nation's Security forces," the coalition said.
"Throughout these years the Igbo leaders who are today all over the place seeking his unconditional release never deemed it necessary to call him to order to create any distance from his atrocious activities against the state and collective mayhem against Nigerians and the North."