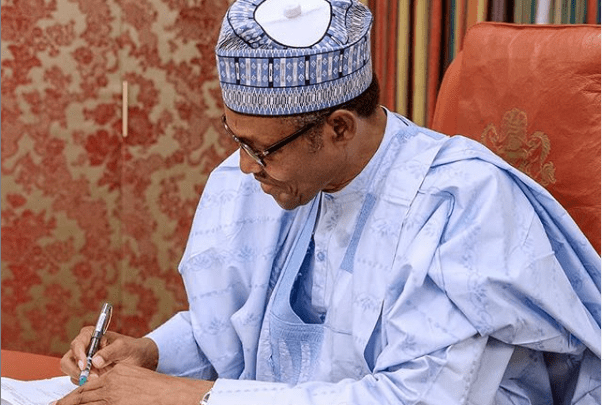 It is no longer news that the newly signed Finance Bill has activated increment in Value Added Tax (VAT) to 7.5 percent.
Expectedly, Nigerians on the Twitter community have voiced their concerns, noting that the masses will face a significant burden.
According to President Muhammadu Buhari, who signed the bill into law yesterday, the bill will, among other things, reform Nigeria's tax laws, align it with global best practices; support MSMEs, aid the government's Ease of Doing Business reforms, incentivize investments in infrastructure and capital markets and raise government revenue.
The majority of the people on the Twiter community were against the idea, while some compared the current rate to the global standard in support of the government.
See some of their comments below.
At 7.5% VAT rate, Nigeria's remains one of the lowest. However, the issue has always been the proper utilisation of increased revenue. Would we see the money?

— autan-binta 🔥 (@_nasknk) January 14, 2020
European Countries have systems that makes the government accountable, transparent and fight corruption. But here, multiple taxations is for fraud. No infrastructure and social amenities to show for it. 7.5% vat is mostly targeted at the lower class. The Political class don't pay

— Sola (@_Oyinbo) January 14, 2020
If you run a business and earn around N70-100M in revenue yearly you will understand that this is great. You only pay 20% as against 30%.

If you earn less than 25M, you pay nothing. This encourages micro and small businesses to save more and invest in their business = JOBS. https://t.co/HVnqSP0GOF

— Dr. Dípò Awójídé (@OgbeniDipo) January 14, 2020
Wickedness is not implementing the new minimum wage but going ahead to sign in the 7.5% VAT…

The paid idiots will come here to tell you BS story about the VAT increase not going to affect the poor (lies). Same idiots were silent on d non implementation of d new minimum wage.

— Ifeanyichukwu (@Afu_Dimkpa1) January 14, 2020
7.5%VAT Won't be bad if only the VATs generated will be properly used.

— #REFLECTIONS#Baba-ifa ( mouthpiecetofthegods) (@dougpan2020) January 14, 2020
Maybe I'll have a flat tummy with this 7.5% vat increase. 🤕🤕

— Fadeyi Thor (@Ogbeni_Peter) January 14, 2020
7.5% VAT increase, 78% increase in energy tariff, N9b for generator at aso villa, N37b for nass renovation.

Let the economic profs come and tell us the correlation about these policies

— Abdulhameed Olanrewaju (@Hameedolaniyan) January 14, 2020
While Nigerians pay 7.5% VAT (which honestly I have no qualms with) our senators are complaining that N2m isn't enough for Christmas bonus. Mind you, this is minus their salaries and already stupidly inflated bonuses.

— Being Human is not Enough (@realdanielemeka) January 14, 2020
If you were planning to ask me for some cash this January, pls dead that plan for the rest of the year.☺️

Buhari just signed the 7.5% VAT bill,and guess you understand what happens to my banking and buying strength.🥺

Good luck, we move.🙏

— Oloye Ayo Gbadebo (@holudaray) January 14, 2020
7.5%VAT the pocket of @FGN those in top authority @firs will get fat in the expense of poor @Nja citizens

— #REFLECTIONS#Baba-ifa ( mouthpiecetofthegods) (@dougpan2020) January 14, 2020
Brace up Nigerians, the 7.5% VAT increase has been officially signed into law by President Buhari.

What does this mean??

You are about to see increase in the prices of basic goods and commodities.

As usual, its the common man in the streets that suffer the most.

U & I 😢😢😭

— AURA❤️COOL (@TWEETORACLE) January 14, 2020