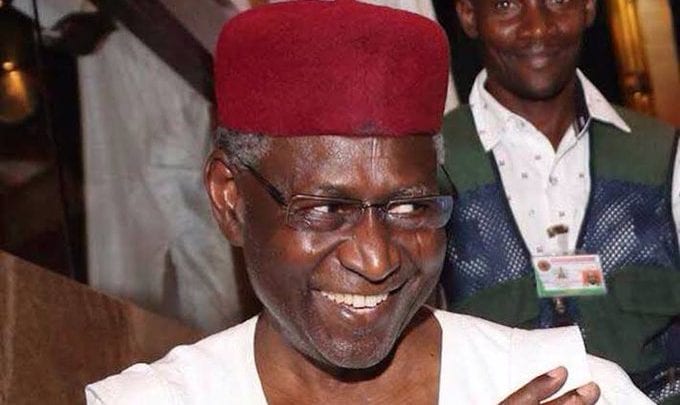 Certain controversies surrounding the timing of the death of Abba Kyari, President Muhammadu Buhari's Chief of Staff, have finally been laid to rest, POLITICS NIGERIA can authoritatively report.
The late Kyari had tested positive for the coronavirus in March after a trip to Germany to meet with officials of Siemens AG on the improvement of power supply in Nigeria. Kyari, 67, was interred at exactly 11:20 on Saturday morning at the military cemetery in Abuja's Gudu neighbourhood amidst tears from family members and supporters.
Announcing Kyari's death in the early hours of Saturday via his verified Twitter handle, @GarShehu, the Senior Special Assistant to the President on Media and Publicity, Garba Shehu, wrote, "The Presidency regrets to announce the passage of the Chief of Staff to the President, Mallam Abba Kyari."
"The deceased had tested positive to the ravaging COVID-19 and had been receiving treatment. But he died on Friday, April 17, 2020."
The Lagos State government also announced Kyari's death on Saturday, stating that he died the previous day at First Cardiology Consultant (FCC), a private health facility in the state. However, there have been conflicting reports on the day top presidential aide died especially on social media platforms where a self-acclaimed investigative journalist, Mrs Kemi Olunloyo, reported two weeks ago that a top presidential aide in Aso Rock had died of coronavirus.
Sequel to her unconfirmed anonymous disclosure, not a few social media users zeroed on the late CoS, but they later found out that the story wasn't true following the non-mention of Kyari by the National Centre for Disease Control (NCDC) and the Lagos State government in their daily COVID-19 update.
Upon the unconfirmed reports, not a few Nigerians demanded from Olunloyo to either confirm her story or tender an apology for misleading her followers. Meanwhile, fresh evidence from the internment point of Kyari indicates that the former Chief of Staff died just a few hours from the time he was buried.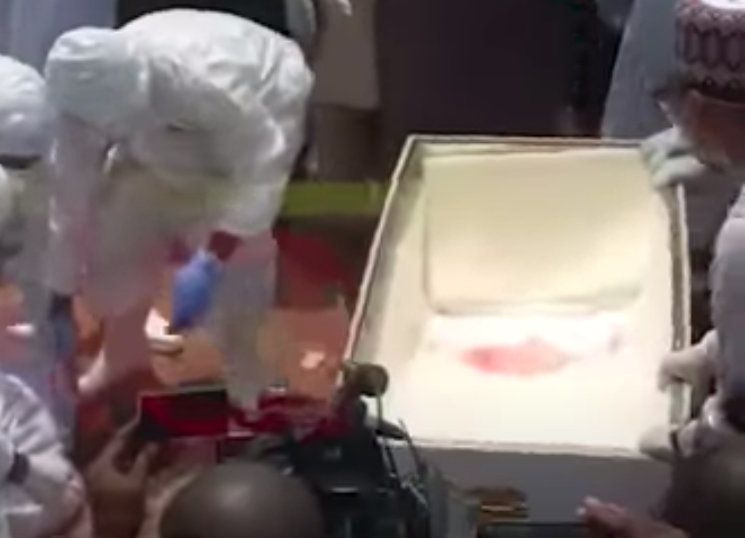 A conscientious consideration of the colour of the bloodstains found on Abba Kyari's coffin showed that it was oxygenated blood. Expounding on the implication of the oxygenated blood, a Lagos based medical practitioner, Owolabi Peter, said Oxygenated blood, also called arterial blood, flow during the respiratory activities in the lung.
"The blood has plenty of oxygen, and its colour is bright red. Oxygenated blood flows in the pulmonary vein and in the arteries," he explained.
He told POLITICS NIGERIA that the blood can not last more than 10 hours before it starts to turn dark red. Also, according to a research work published by Mary Roach, an American author who specialises in science, the blood can only remain sterile, as it is in Mr Kyari, for six-eight hours.
"For six to eight hours, the blood inside a dead body remains sterile and the red blood cells retain their oxygen-carrying capabilities," Mary Roach reported in her book Stiff.