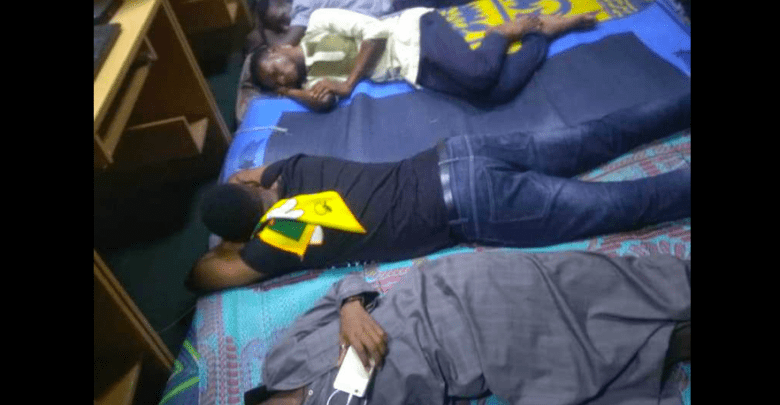 Despite the surge in the cases of coronavirus infection in Nigeria, a customer experience management firm in Ibadan, iSON Xperiences, has refused to take recommended measures to protect its workers and clients.
iSON Xperiences' Ibadan office is located on the third floor of Kingsway Building, Dugbe, Ibadan, Oyo State.
According to the company's website, iSON with over 2,500 staff, provides inbound customer service, inbound-dealer helpdesk, outbound sales, showrooms staff deployment and management, social media car and data cleanup services in 18 countries.
The company is in partnership with some telecommunications service providers, including MTN, Airtel and Vodafone.
As of Tuesday morning, there are 40 confirmed cases in Nigeria. Lagos state has the highest number of confirmed coronavirus cases. As of the time of reporting, Lagos state had reported 28 cases, Abuja – 7, Ogun – 2, Ekiti – 1, Edo – 1 and Oyo – 1.
This paper reported how the COVID-19 confirmation test for the suspected case at Bodija in Ibadan came back positive on Sunday morning.
While the state government has shut down all schools, the World Health Organisation (WHO), in its guidelines advised employers to promote good respiratory hygiene in the workplace.
"Display posters promoting respiratory hygiene. Combine this with other communication measures such as offering guidance from occupational health and safety officers, briefing at meetings and information on the intranet etc.
Ensure that face masks and/or paper tissues are available at your workplaces, for those who develop a runny nose or cough at work, along with closed bins for hygienically disposing of them," the documents read.
Also, WHO said employees should avoid congested places and be vigilant enough to ascertain if they are fit to work in the office or from home.
Situation at iSON Xperiences office
iSON Xperiences office in Ibadan, which houses about 400 customer care agents daily, has failed to comply with the WHO guidelines. Although the company had instructed some of its agents to work from home, the workplace is still congested and social distancing not observed.
Moreover, the sleeping arrangement for the agents on night duty is risky as they sleep together on mats and beds. A corner is dedicated for hand washing but there is no provision for face masks by the management.
One of the agents working with Airtel, who asked not to be named for fear of victimisation, told this reporter that they had failed to convince the company to adopt the work-from-home option.
"Funny enough, they said some people should work from home but most of us frontline agents are still coming to work every day, where working from home can easily be achieved."
"The sleeping conditions are bad and the company is not even concerned. They just keep on saying we should take necessary precautions," he said.
A nurse, Otun Damilola, said the situation is a threat to the lives of the workers.
"This is a deliberate attempt to spread the virus, and it is inhuman. Germany reduced crowds to a gathering of two, Lagos State asked public servants from grade 1 to 12 to stay home, but some people still think it's a joke."
"That kind of action can cause the virus to spread to over 5000 people if any of them is infected," she added.
She advised the government to close down the company to prevent further spread.
The Chief Press Secretary to Governor Seyi Makinde, Taiwo Adisa, decried the insensitivity of the company, saying the state government had not been aware of the situation.
"It is not a joke that countries are shutting down. We have to take this seriously," he told POLITICS NIGERIA on Monday morning.
He, however, promised to draw the attention of relevant authorities to it.
iSON reacts
Jamila Yusuf, a line manager in the Ibadan office of the company, promised to get back to our reporter when contacted about the welfare of the workers on Monday morning.
Meanwhile, Tope Omikunle, the company's Human resources manager, denied subjecting the workers to inhuman conditions.
"We have put necessary measures in place to protect our workers," He told this reporter on Monday evening.
He said the company placed sanitisers at different spots in its office and has given out face masks to its security officers. Pictorial evidence obtained by POLITICS NIGERIA however proved otherwise.
Commenting on some workers who were mandated to work in the office, Mr Omikunle said; "there is no ban yet on working from the office by the state government but the company is trying a method that is sustainable and cannot compromise the health of its staff."