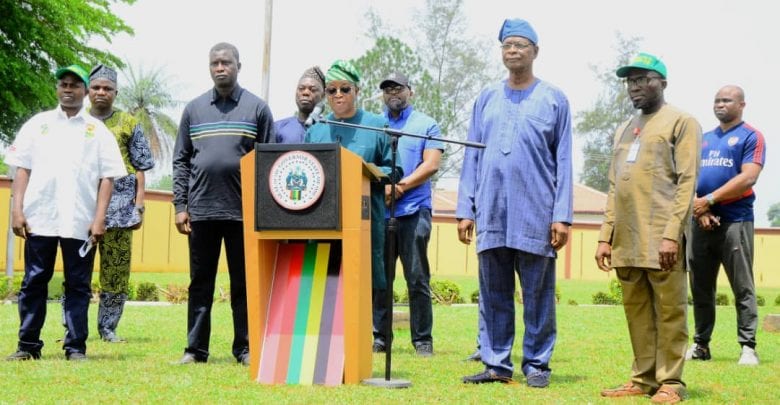 The ruling All Progressives Congress (APC) in Osun state has urged residents not to panic following the COVID-19 outbreak in the state.
Spokesperson of the party in the state, Kunle Oyatokun, made this known in a statement on Thursday in Osogbo, the state capital.
He said: "It's obvious that Governor Gboyega Oyetola of the State of Osun is a student of history and he wouldn't allow the tragic arm of history to show up in the state. So, the watchword of his address (twice in one week) to the citizens of the state this season of coronavirus is: Don't Panic!
"Timely admonition indeed from a leader who cares! Fear or panic causes far more trouble than what breeds it. That is the abiding lesson of history. And the time-honored saying is that the rough edge of history bruises the faces of those who refuse to learn at its ancient feet.
"You have no one to blame if you get so manhandled by this old tutor. So, as he responded to the Covid-19 scourge sweeping across the world and Nigeria, Oyetola cautioned against panic, saying that his government is not insensitive to what is on the ground. His administration, he assured the people, has rolled out proactive measures to ensure the plague does not spread like wildfire in the State of Osun, which has so far recorded one case of coronavirus.
"The governor said confidently: ''…We have, as a responsible government, fast-tracked our response activities in order to keep our people safe and free from the virus. As part of immediate measures to prevent an outbreak, we constituted three committees to decisively deal with the situation. These are the Technical Response Committee, the Economic Impact Committee and the Communication Committee…We have also created holding centres to isolate and treat possible reported cases.
"Governor Oyetola then pleaded with his people to cooperate with his administration, even as they observe the rudimentary hygienic rules being proffered in the enlightenment campaigns of government agencies.
"He believes correctly that if it takes two to tango, it must also take both the efforts of government and the input of the population to check the spread of the deadly blaze called coronavirus disease.
"The governor's strategy is clear: seize the plague before it gets out of hand. Get hold of it before it gets hold of us and paralyzes us. Neatly put, Oyetola holds a strong position that prevention is better than cure. Or better still, prevention is cheaper than cure.
"In view of what others didn't do and then allowed Covid-19 to have a fatal foothold in their land, we must applaud Governor Oyetola for swiftly moving in, first to allay the fears of his people and then to follow that step up practically with the establishment of technical bodies to monitor events and developments related to Covid-19. The seriousness he attaches to the issues is attested to by the fact that they report directly to him."