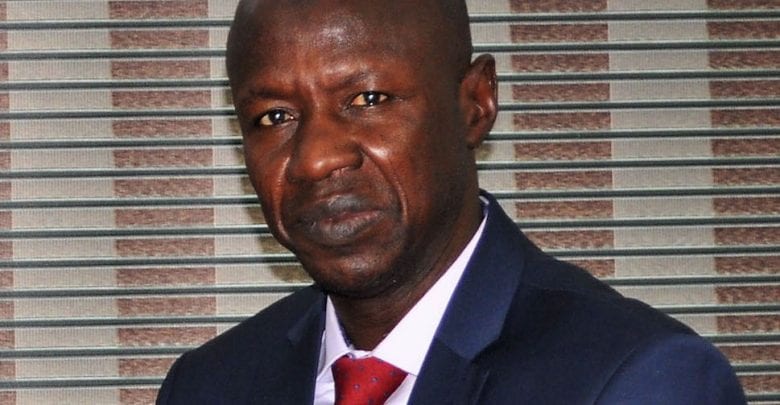 Fresh Allegations against the embattled former acting chairman of the Economic and Financial Crimes Commission, EFCC, Ibrahim Magu have emerged.
On Wednesday, Magu was grilled for a third time by a Presidential inter-agency panel over alleged ownership of choice properties in Dubai, UAE.
Magu has been in the custody of the Force Criminal Investigation Department (FCID), Garki since Monday after his arrest in Wuse II. He has been facing rounds of interrogations by the panel over the numerous allegations of corruption raised against him by the Attorney-General of the Federation, Abubakar Malami.
The panel presided over by a former court of appeal judge, Justice Ayo Salami was keenly interested in knowing the details of Magu's regular travels to Dubai and establishing evidence of his ownership of certain properties in the region.
Magu's houses in Abuja were also raided on Tuesday for sensitive documents and incriminating evidence. However, a fresh allegation that he illegally sold 157 oil tankers seized from the Port-Harcourt office of the EFCC has emerged. Magu was alleged to have sold off or mysteriously released about 157 oil tankers without following due process.
The money was reportedly not remitted to the government's coffers. A highly placed government source told Punch;
"There are allegations that about 157 oil tankers seized by the Port Harcourt disappeared. Some were sold while some were returned to the owners after massive bribes were given through operatives we believe to be Magu's proxies."
"We are also working on some reports from the Office of the Auditor-General and the Federal Inland Revenue Service regarding some financial lapses in the EFCC."
"For some of the allegations, Magu was not able to explain while for some, he offered explanations. Whenever he gives explanations, we investigate and cross-check and based on the outcome of the investigation, more questions are asked."