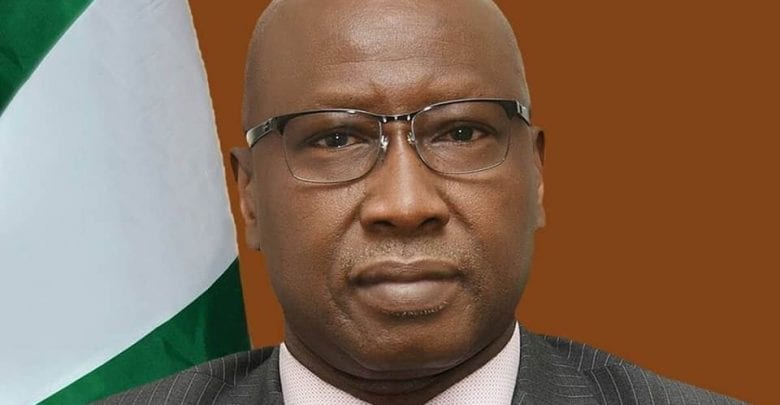 The Chairman of the Presidential Task Force on the Covid-19 pandemic and Secretary-General of the Federation, Boss Mustapha, has announced that body temperatures will now be checked in public places.
The scourge of the coronavirus pandemic has recorded over three million patients across the globe. As of Wednesday, Nigeria has a total of 1532 confirmed cases.
Mr Mustapha disclosed the latest development while making clarifications on the easing of the lockdown during the daily briefing of the Presidential Taskforce on COVID-19 in Abuja.
The briefing was aired by Channels TV and monitored by POLITICS NIGERIA. Recall that Mr Buhari had promised that there will be a gradual relaxation of the lockdown earlier imposed in the FCT, Lagos and Ogun states to curb the spread of the virus.
Meanwhile, Mr Mustapha stated that a mass gathering of more than 20 persons is prohibited in order to contain coronavirus spread. "Mandatory temperature to be conducted in public places," He declared.
The Secretary-General then enjoined state governments and task force teams to ensure the enforcement of the new rules. He emphasised that the easing of restricting do not signal the end of the battle against Covid-19 but calls for collective action.
Speaking on the efforts to help Kano state, which appears to be a high-risk state considering the rise in cases, Mr Mustapha said the technical team has begun an evaluation of the situation in the state. "Fifty trucks of assorted grains has been sent to the state. We must encourage our scientist should conduct research," he said.
While appreciating the donors of funds and materials, he acknowledged the donation of some religious groups on Wednesday.
"Ansarudeen society has donated food and a Christian group donated 10 million naira," He said.
The Director-General of the Nigeria Centre for Disease Control (NCDC), Chikwe Ihekweazu, while answering questions from journalists, said that the government is working very hard to make life comfortable for the patients.
Regarding the use of alternative medicine, he reiterated that a larger percentage of the patients will recover with or without medications. On enforcing social distancing as recommended by the World Health Organisation (WHO) Ihekweazu said the government cannot do it alone.
"This is everybody's responsibility. We can't go everywhere to ensure that people are two meters apart." he stated.