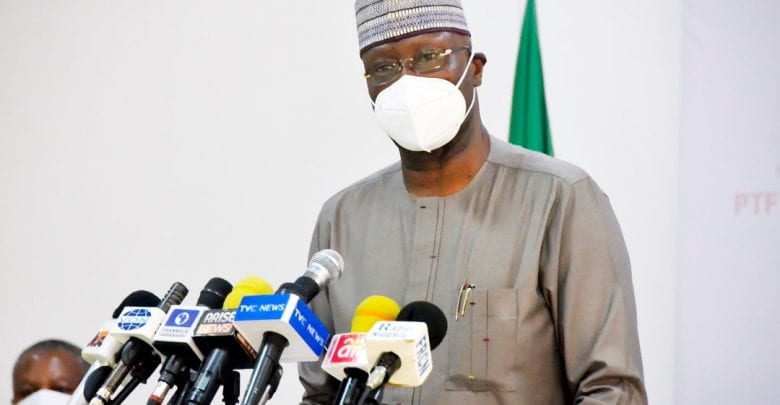 The Presidential Task Force (PTF) for the Coronavirus pandemic has stated that the efforts to fight the surge of the COVID-19 virus in Kano has been yielding positive results. This was disclosed by the Chairman of the Taskforce, Boss Mustapha, during its daily briefing aired on Channels TV, which was monitored by POLITICS NIGERIA.
While giving his address on Friday, Mr Mustapha appreciated business entities for their compliance with the guidelines. "We will like to thank all business entities as well as trade associations especially markets and transport unions," he said.
He reiterated the commitment of the PTF to stopping the spread of the virus through all means. Mr Mustapha, however, declared that the response of the team to the situation in Kano State has been yielding results.
Recall that the state's tally of confirmed cases of coronavirus hit 219 after it recorded eighty new cases on Thursday. "Our response to the kano situation is yielding results since testing was rampant, the state task force in collaboration with our team has also established contact tracing and isolation. A lot of emphases is being placed on Building of capacity for coordination, care management…"
He said: "Although the spike in the figures from Kano is a bit worrisome, global trends indicate the discovery of previously detected cases and create greater opportunity for detection, isolation, care and management."
Mr Mustapha explained that they are also putting up a team to support the state on a full-time basis. He announced that the World Health Organisation is planning to train over 3,000 informants for the primary health care in Kano state.
He, however, advised that researchers should intensify efforts by deepening the research for a homegrown solution to the pandemic. Meanwhile, the minister of health, Osagie Ehanire, made it known that a team of fourteen specialists will be deployed to Kano state on Saturday.
"A multisectoral team of fourteen specialists comprising of people from the Nigeria Centre for Disease Control (NCDC), National Primary Health Care Development Agency (NPHCDA), the department of hospital services, the department of family health, an infectious disease specialist, media and a special adviser will leave for Kano tomorrow," Mr Ehanire said.
According to him, they will be responsible for training and capacity building for the health workers so that the NCDC strategy can be actualised.