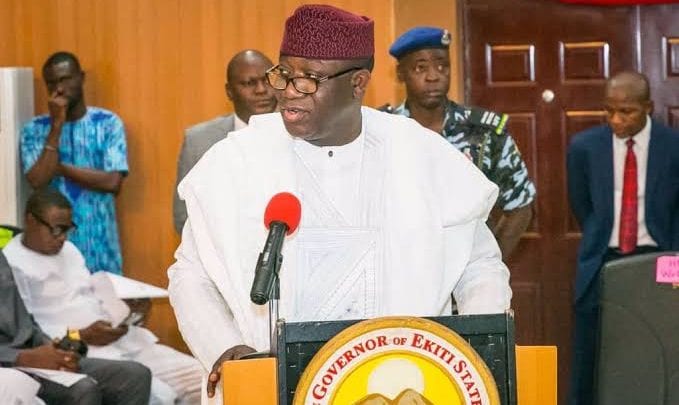 Governor Kayode Fayemi of Ekiti State has extended the COVID-19 lockdown in the state by an additional 14 days as part of measures to curb the spread of the infection.
In a statement by the Secretary to the State Government, Biodun Oyebanji, in Ado Ekiti, on Monday, the decision was taken after the state recorded another COVID-19 case.
He added that it was in recognition of similar efforts by neighbouring states and the Federal Government to curtail the spread of the virus.
Oyebanji said, "Effective from April 14, wearing of masks in public places will be compulsory in compliance with recent findings on causes of the spread of COVID -19.
"Government is finalising arrangements to make face masks available to persons on essential duties, including foodstuff sellers in markets.
"The Ekiti State COVID-19 (Prevention of Infection) Regulations, 2020 will remain in force during this extension. All existing measures to contain the spread of COVID -19 in the state will continue to be enforced."
Oyebanji said some measures were put in place to safeguard the lives of residents of the state from the disease.
The SSG listed these measures to include: restriction of movement of persons and goods; closure of businesses, Oja Oba and Oja Bisi markets; prevention and prohibition of gatherings.
Others are the closure of boundaries; and prohibition of public transport, adding that the lockdown would be relaxed between 6am and 2pm on Thursday (April 16) and Tuesday (April 21) to enable people re-stock essential goods.
Oyebanji said palliatives and other measures were being put in place to cushion the effect of the disease on the lives of the residents and help reduce the suffering of the people.