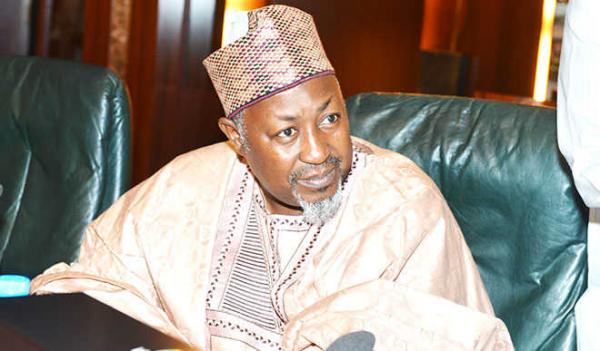 After recording 32 new cases of Covid-19 on Monday, Jigawa state Governor, Muhammad Badaru, has directed the mandatory the use of facemask in public places across the state.
The governor, who announced the order in Dutse on Tuesday, said the gesture was to enhance the state's response to the fight against the spread of Coronavirus (COVID-19).
According to the data from Nigeria Centre for Disease Control (NCDC) figures from the state skyrocketed from seven to 39 on Monday evening.
As of the time of filing this report, POLITICS NIGERIA understands that Nigeria has recorded 2802 cases of the pandemic with 417 discharged and 93 killed.
Governor Badaru, however, explained that the government has distributed over 20,000 masks and was working to provide more.
The governor added that the use of re-washable clothing material could also serve as the mask.
"It has become necessary to introduce additional public safety measures that will enhance our response to this pandemic.
"Henceforth, the use of face mask is mandatory in public places. While the government had distributed over 20,000 masks, we will work to provide more as individuals also make their personal effort to buy," he said.
This paper recalls that the Jigawa government had on April 16 directed that worshipers at Friday congressional prayers must wear facemasks and ensure a two-metre gap between one another to avoid the spread of COVID-19.
Badaru gave the directive shortly after a meeting with traditional leaders and members of the state Council of Ulama in Dutse.
The meeting was held following the emergence of the COVID-19 in neighbouring Kano State.
"Seeing what is happening in Kano, we called our Emirs and Council of Ulama to review our strategies and see how best we can protect our people without causing too much hardship for them.
"The resolution is that for now, we will continue to observe Friday prayers, but with an agreement that we practice social distancing of at least two metres in our rows.
"It was also agreed that people will wear facemask or use their 'Hiram' (Turban) to cover their nose and mouth, and we will monitor compliance with the directive," Badaru said.