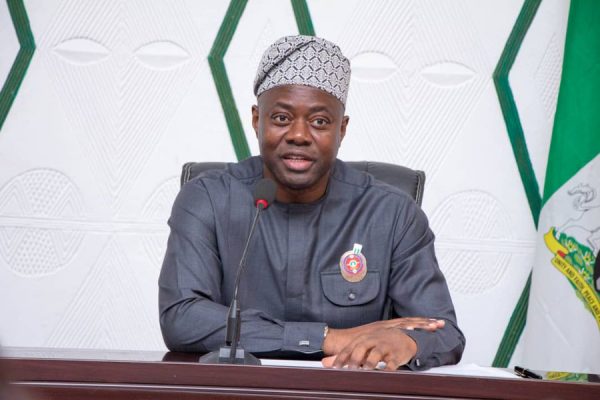 Oyo State Governor, Seyi Makinde, has said that the state government is considering lifting ban on religious activities despite recording new COVID-19 infections.
As of the time of filing this, the state has recorded  118 COVID-19 cases. It has also reported 30 new cases of the infection in a company in the state.
POLITICS NIGERIA reported how state governors have earlier agreed to ban religious gatherings to curb the spread of the virus.
Mr Makinde said the state government has received requests from religious leaders about relaxing the ban on gatherings to allow religious services to hold.
This was contained in a statement issued by the Chief Press Secretary to the governor, Taiwo Adisa, after a meeting of the Oyo State COVID-19 Task Force on Monday.
The statement read: "We are currently in the accelerated phase in the transmission of Covid-19 in Oyo State and the expert advice is that transmission occurs more easily in enclosed spaces, so we cannot at this time relax this directive."
He, however, noted that experts are carrying out a risk situation analysis and would be sending in their reports before the end of May, and this will determine our next steps.
Mr Adisa also quoted the governor as saying that the state Task Force would reveal the identity of the company with 38 COVID-19 positive cases among its members of staff in Ibadan.
Accordingly, Mr Makinde released a food advisory, which he said experts have certified as immune boosters that could help the human body prevent attacks of COVID-19.
The Governor also said that the food advisory was certified by Professor Olatunde Farombi, a Professor of Biochemistry and Head of the Department of Biochemistry, at the University of Ibadan.
"We will issue an advisory based on the advice given by Professor Olatunde Farombi, a Professor of Biochemistry and Fellow, Nigerian Academy of Science.
"This is on foods and natural products useful as preventive measures against COVID-19 and other viral illnesses. For instance, we have bitter Kola, turmeric, zinc, ginger, garlic, citrus fruits and bitter leaf – they are all readily available in our environment," the statement read in parts.