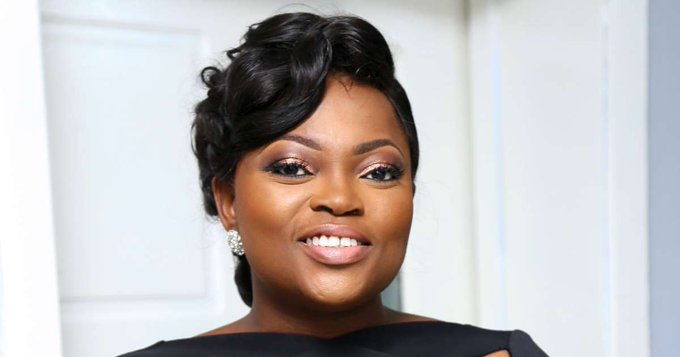 Nigerians have expressed mixed reactions over the arrest of Nollywood superstar, Funke 'Jenifa' Akindele, for hosting a birthday party that violates Lagos state government's lockdown.
POLITICS NIGERIA reports that the actress was arrested on Sunday for hosting the party in honour of her husband, Abdul Rasheed Bello a.k.a. JJC Skillz.
Lagos Police spokesperson, DSP Bala Elkana, confirmed the arrest of the actress In a statement on Sunday evening.
The statement read: "Attention of Lagos State Police Command was drawn to a viral video showing a large number of persons mainly in the entertainment industry in an Estate, along Ajah, Ibeju-Lekki axis, Lagos celebrating a birthday party organised by Funke Akindele Bello and her husband.
"Police detectives from the State CID Yaba were promptly drafted to the location.
"Funke Akindele was arrested. An investigation is ongoing, efforts are intensified to arrest the remaining persons in the video, among whom are Azeez Fashola a.k.a Naira Marley and Abdul Rasheed Bello a.k.a. JJC Skillz.
"They are in their best interests urged to report at the State CID Yaba on Monday 6th April, 2020 or risk being declared wanted."
However, Nigerians have praised the Lagos state police command for arresting the actress and not shielding her from arrest.
Some also commended her for issuing a public apology for hosting the party and called for her release.
Below are some of the reactions captured by this news medium on social media:
COVID-19: Popular TV sensation, Funke Akindele has been arrested by The Police for violating the Stay-at-Home directive and organising a social event with a large gathering of people which could lead to the spread of Covid-19. pic.twitter.com/lOLzVUfqIA

— Lagos State Police Command (@PoliceNGLagos) April 5, 2020
Efforts are being made to arrest other individuals who were also present at the gathering. They are hereby advised to report at the State CID, Yaba on Monday 6th April or risk being declared wanted. #Staysafe #StayAtHome

— Lagos State Police Command (@PoliceNGLagos) April 5, 2020
Police finally arrest Funke Akindele over house party, and orders Naira Marley and JJC to report to Police station on Monday, or they will be declared wanted.

— Papichulo (@ZinoMulla) April 5, 2020
When I hear they are no where to be found on Funke Akindele issue, I thought it's only @officialnairam1 that sang #japa. When did he feature @JJCSKILLZ? And hin be the husband Ooooh. https://t.co/eUEAxbBxWT

— GS9ja (@Goodstuffin9ja) April 5, 2020
— Barely 5 Hours After Issuing Public Apology, Police Arrest Actress Funke Akindele Over House Party

– The Lagos State Police Command has arrested Funke Akindele for hosting a party in contravention of the lockdown order in Lagos State, The PUNCH can confirm. https://t.co/nz4hT2P6YU

— VyrãlTreñdz (@TheVyralTrendz) April 5, 2020
https://twitter.com/bsl_di/status/1246886910804529155
Arresting funke akindele was the right move by the govt. Just needed to make sure nobody goes againt the presidential order again.#funkeakindele pic.twitter.com/auMUDW9XOH

— Bhee (@Wendii_coco) April 5, 2020
Naira Marley has been invited by the police for attending Funke Akindele and her husband, JJC Skill's house parry for his birthday despite the lockdown in Lagos State.

— World Publicist (@IsimaOdeh) April 5, 2020
https://twitter.com/Faleti_ajala/status/1246887194293403648
https://twitter.com/tuneri/status/1246887220532916226
Funke Akindele's arrest is something good for public re sensitization.

— TheIsrael (@devlikeIsrael) April 5, 2020
https://twitter.com/djsheylex/status/1246888085075435522
How Nigerians expect Funke akindele to celebrate her birthday as an Ambassador of NCDC #funkeakindele pic.twitter.com/27d7Cj6msR

— D_Legacy (@S_U_Dikko) April 5, 2020
Funke Akindele has been arrested.

Naira Marley: 🔽🔽 pic.twitter.com/01A2Q6EwY0

— Collins (@Scottiethepope) April 5, 2020
When you people are done dragging Funke Akindele,this is #BolaTinubu celebrating his own birthday. https://t.co/4AdpZU5dyw

— DEMAGOGUE PhD.💘senior advocat (@von_Bismack) April 5, 2020
https://twitter.com/ThatBrightDude/status/1246879823873671168
https://twitter.com/umar_ayotunde/status/1246886576283672576
https://twitter.com/umar_ayotunde/status/1246886576283672576