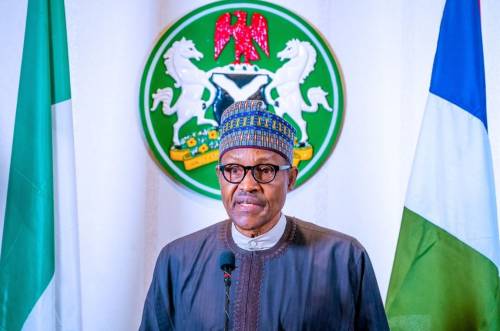 Different reactions have greeted President Muhammadu Buhari's plan to address Nigerians on the outbreak of Coronavirus in the country.
POLITICS NIGERIA reports that Presidential spokesman, Femi Adesina, in a statement on Monday afternoon, said the president will update Nigerians on the current Coronavirus lockdown in place by 8pm tonight.
Adesina advised Television, radio and other electronic media stations to hook up to the network services of the Nigerian Television Authority and Federal Radio Corporation of Nigeria respectively for the broadcast.
However, Nigerians have taken to Twitter to ask if the president will extend or relax the lockdown as the number of Coronavirus cases is still rising.
Below are some of Nigerians' reactions captured on Twitter:
FLASH: President Buhari to address Nigeria by 8pm.

We miss him.
Can't wait.

— #OurFavOnlineDoc 🩺🇳🇬🇬🇧💎 (@DrOlufunmilayo) April 27, 2020
https://twitter.com/ShehuUm26599059/status/1254789398488510469
The Pre-recorded speech of President Buhari will be available to #Nigerians by 8pm today.

Incase there is Power failure, use the radio on your Mobile to follow the broadcast.

I wish you all well pic.twitter.com/BKLUQrwSnP

— Comradeˢᵀ (@iAGB4REAL) April 27, 2020
Buhari everytime he has to address Nigerians

🥺

👉👈

— Elon Mosque (@That_IjebuBadoo) April 27, 2020
https://twitter.com/Deji_OoniAbj/status/1254791711491907586
This is what would happen to the lockdown today after Buhari addresses us: pic.twitter.com/tu4oHXZQyC

— Josh (@chigoziiem) April 27, 2020
Presidential speech Forecast

Lagos
Over 1.5 weeks
Over 15.5 Positive cases

Buhari
Under 20.5 mins speech
Possibility of Events – Buhari to talk about Kano – NO#LockDownNigeria

— Mazi Agbo Waltz (@EduWaltzChuka) April 27, 2020
Which Buhari wants to address Nigerians the dead one or the new Buhari wearing Buhari face mask .what is that hole in his neck you can't explain https://t.co/MQ1PbT6FyU pic.twitter.com/ap0kINTVWy

— biafra man (@BIAFRANMAN71189) April 27, 2020
Finally, Buhari to address Nigerians at 8pm — three hours before the official end of the lockdown.

— 'Fisayo Soyombo (@fisayosoyombo) April 27, 2020
Whenever Buhari wants to address Nigerians before it's recorded
pic.twitter.com/xy90aW8fyE

— Davidson™ (@Dahveydson) April 27, 2020
"General Buhari is in a love-hate relationship with Nigeria."

That's the only statement that explains why he would wait till Monday to announce further action on a lockdown that affects three major city states.

It's the military tactic called "Ambush", reserved for the enemy.

— Demola Olarewaju (@DemolaRewaju) April 27, 2020