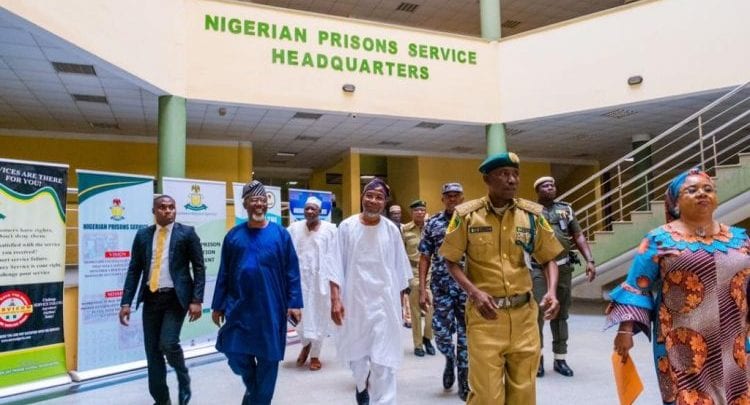 The Nigerian Correctional Service (NCS) has announced that new inmates are to be isolated for fourteen days before being transferred to the general cells.
POLITICS NIGERIA reported that the NCS had suspended the admission of new inmates before now in order to curb the spread of COVID-19. The review of the strategy was contained in a letter issued by the Comptroller General of the NCS, Ja'afaru Ahmed on Wednesday.
"In view of the recent developments in the fight against COVID-19 Pandemic coupled with the need to enhance access to justice and also facilitate the administration of criminal justice in the country, the Services Management has approved the review of the earlier emplaced strategies."
Accordingly, the strategic approved for implementation include: Only 39 designated custodian centres with isolation units are allowed to admit inmates.
"All newly admitted inmates are to be isolated for a mandatory period of 14 days," he said.
Mr Ahmed also noted that COVID-19 Screening should be conducted on all inmates at the isolation cells/units.
"A confirmatory test after the 14 days should be conducted on all the inmates at the isolation cells When an inmate tests negative, he will be released from isolation cells to general cells but when an inmate tests positive, he or she should be released from isolation cells to NCDC specialists."
Speaking on staff protection, the Comptroller General stated that Personal Protection Equipment (PPE), hand sanitizers, face masks and other items should be made available for staff use particularly those deployed to isolation units/cells.
In addition, staff members are to undergo fundamental/basic training before being deployed to Isolation wards.