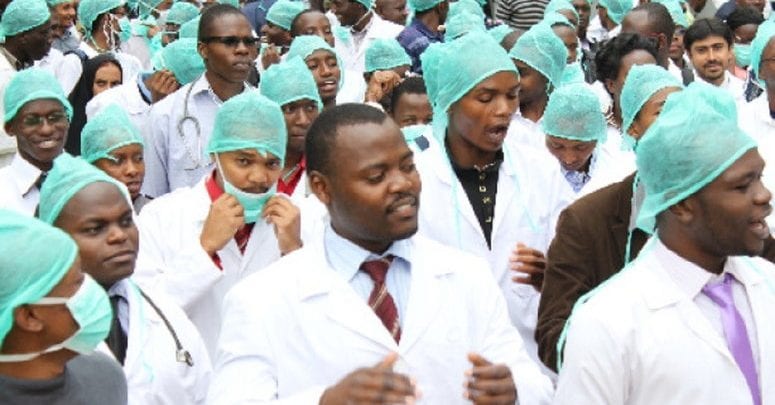 Medical doctors, under the aegis of the Nigerian Medical Association (NMA), have expressed their stance against the invitation of doctors from China to assist with the fight against COVID-19.
The group in a statement, signed by its President, Francis Faduyile said it received the news of the intention of the Federal Government of Nigeria to invite Chinese doctors into the country at this time of a global pandemic with great dismay and utter disappointment.
According to the statement obtained by POLITICS NIGERIA, the doctors described the action as a thing of embarrassment to the membership of the Association and other health workers for not being carried along in arriving at such a decision.
"The lack of Personal Protective Equipment (PPE), grossly inadequate test kits and test centres across the country, and the absolute lack of any form of insurance for the workforce are primordial issues begging for attention at this time.
"We are therefore profoundly dismayed to learn that the Federal Government is instead inviting the Chinese who from available accounts are not out of the woods themselves.
"The spike in cases and the death toll from COVID -19 in Italy coincided with the arrival of the Chinese in the guise of offering assistance. Even the United Nations has only just recently commended the efforts of Nigeria so far.
The Association notes with grave concern that the Government did not take into consideration the extant laws regulating the practice of medicine in Nigeria as enshrined in the Medical and Dental Council Act. This is one such circumstance where the Medical and Dental Council of Nigerian should be consulted to grant necessary approvals to foreigners to interact with Nigerian patients.
The doctors said they are aware of a large pool of General Medical and Specialist Practitioners who are either unemployed or underemployed that can be engaged instead of bringing foreigners who aside from national security concerns may not be conversant with our culture, terrain and peculiar challenges.
Moreover, the group urged the Federal government to review its plans and improve the working condition of the health workers.
"The provision of adequate personal protective equipment, opening and properly equipping more isolation centres and health facilities across the country is an excellent first step," the statement read.
A Presidential aide, Tolu Ogunlesi, had earlier announced the awaited arrival of a contingent of Chinese experts and medical equipment.
"Nigeria will also be getting a contingent of Chinese health experts, as well as medical equipment to assist in the fight against #COVID19. Should be on their way I think," he wrote on Twitter.
https://twitter.com/toluogunlesi/status/1246789560702550017?s=19
He however defended the move saying: "Nigerians making noise about the Chinese doctors coming. God forbid that you're terribly ill and realise the Doctor by your bedside, waiting to save you, is Chinese. Send him or her away you hear? That's when you'll know lifesaving medical care has no skin colour or nationality."