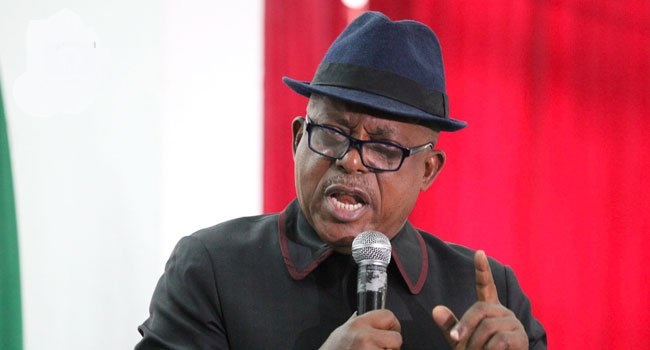 The People's Democratic Party (PDP) has urged President Muhammadu Buhari to resign over the spread of Coronavirus pandemic.
This demand was made by Uche Secondus, PDP chair, while addressing Journalists in Abuja on Thursday.
"The Coronavirus ravaging the World has thrown up fresh challenges across the globe for leaders of nations. While we watch and admire leaders rise to the challenge elsewhere, the reverse is the case in our country."
"Nigerians are yet to hear or see their President rise to the emergency and those officers on duty have not enjoyed the needed political will. (Maybe when it's cut up with us God forbid the President in his character would say he is not aware of the virus)."
"Also very outstanding is Nigeria government's response to the disaster as was experienced in weekend's pipeline explosion in Lagos state ( may I crave your indulgence for a minute silence for souls of our beloved citizens who lost their lives)….
"May their soul and those of the faithful departed rest in peace. Amen. Gentlemen of the press, the measure of bloodletting in the country under the watch of this regime are that there is hardly any press conference we do that we do not observe some time for souls of our beloved ones. Very unfortunate our value for human lives.
"Another disaster waiting to happen is the effect of black soot in the Niger Delta region with its attendant health hazard to the populace and no serious response is being given to it.
"Consequently, at this hour of peril to our country, PDP is calling upon President Buhari to wake up and give this nation a firm, purposeful, consultative and all-inclusive leadership. Our party is of the firm conviction that our problems can be successfully resolved if there is fair and effective leadership at the top. It is now time to give this leadership or give way to capable hands.
"In conclusion, the point we are trying to underscore here very loudly is that this country is sitting on a time bomb and we must not allow it to explode."We in PDP have our genuine fears that this government and its managers lack the needed capacity to lift us out of the woods because we got into it ab initio due to their incapacity."