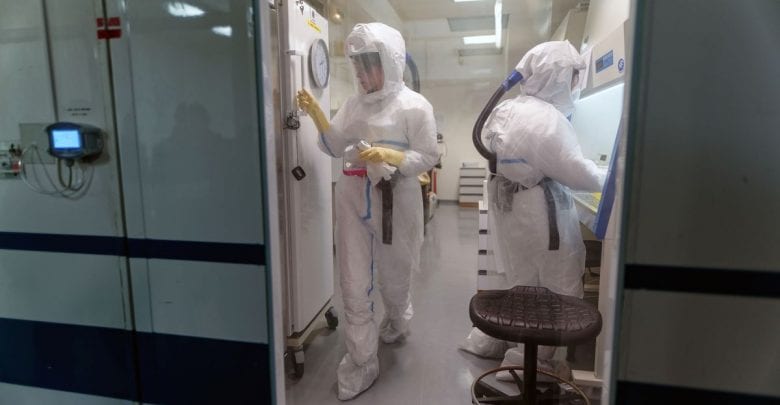 Nigerians have been through a roller coaster of emotions since the outbreak of Coronavirus. Amidst this menace, social media have been agog with all sorts of misinformation about the menace. 
A viral Facebook post said Saline Solution with warm water and salt or vinegar are the remedy to Coronavirus, the claim has not been corroborated by any health institution.
Meanwhile, a fact check shows otherwise. 
NHS recommends gargling with warm saline water for adults suffering from sore throats but not the solution to cure COVID-19. A
Also, the World Health Organisation (WHO), in its Q&A about coronavirus on Twitter debunked a similar question of whether gargling mouthwash can protect one from COVID-19.
The organization says there is currently "no vaccine and no specific antiviral medicine to prevent or treat COVID-2019."
Clinical trials are however ongoing to find a solution to the disease. 
Aside from this, Garba Shehu, President Muhammadu Buhari's spokesperson, said 822 people are killed by malaria daily in Nigeria as he criticised the media for 'over-reporting Coronavirus. 
Mr Shehu's tweet in less than 24 hours gathered over 2,400 likes and 716 retweets. A fact check later proved otherwise. 
WHO data shows a figure that is three times lower than that put forward by the presidential spokesperson.
Fake pictures, videos:
When a video surfaced online (Twitter) on Saturday, showing police officers beating Christians who visited the church in Zimbabwe, it generated a lot of retweets. 
The video was viewed by over 80,000 twitter users, gathered over 2,500 retweets and liked by over 3,000 persons with many hostile comments capable of inciting the public against security operatives. 
Meanwhile, a check later showed that the video was old footage from an event in November 2019, in Zimbabwe against the opposition. 
Moreso, the person who attributed the video to Coronavirus, Segun Awosanya (Sega) must have read his comment section because he subsequently released a rejoinder but this came after the video had got to nearly 100,000 persons. 
There lies the danger in posting or reposting information online without verifying them. Even if you retract that tweet or online post, the message has already been sent; opinions have been shaped, and violence may occur.
NCDC:
To curb fake news, the Nigerian government launched a new 'microsite' that will ensure the speedy provision of updates and relevant information on the ravaging coronavirus disease as events unfold.
All new confirmed cases of COVID-19 will now be announced on the site launched by Nigeria's Centre for Disease Control (NCDC). Announcing the new site on its official Twitter handle Saturday evening, the NCDC said it was approved by the Minister of Health, Osagie Ehanire. All information related to COVID-19 can also be verified on the site, covid19.ncdc.gov.ng