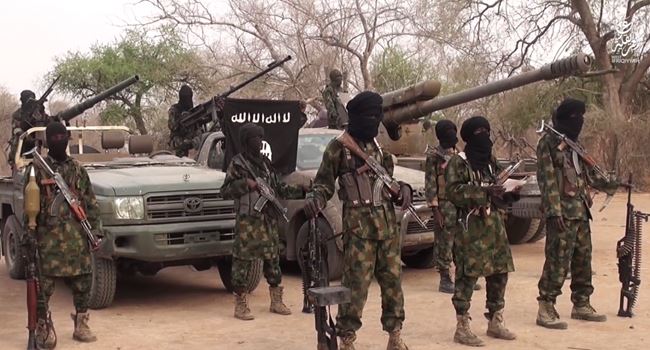 The new leadership of the Islamic State of West Africa Province (ISWAP) has killed the former governor of Lake Chad, Amir Baba Kaka, and two of his lieutenants.
POLITICS NIGERIA learned that Kaka along with his aides, Amir Muhammed Lawal AKA Abba Lawal and Amir Musa, were executed at Kwalaram on Sunday evening, 26th July 2020.
According to reports, ISWAP Chief Judge, Amir Malumma, and members of the Shura council took the decision to kill the leaders after investigating them for four weeks.
Kaka was the most powerful jihadist warlord in-charge of all terrorists activities and operations along the Tumbus of Lake Chad axis for 4 years before he was sacked by the new Wali of ISWAP, Amir Abubakar Lawan and replaced by Amir Goni Maina.
A source who has information about the development said that the council pronounced death sentence to Ba'a Masta, an Islamic Scholar who preached in the Tumbus and 14 others.
He revealed that a separate date for their execution has been fixed for July 31st 2020, immediately after Eid-El-Kabir prayers.
The source said the aim of killing the former leaders was to consolidate power and control by the new Wali and his close ally Abu Musab Al-Barnawi.
Recall that the latter was one of the surviving sons of Boko Haram founder Muhammed Yusuf killed in July 2009 while in Police custody in Maiduguri.
It is understood that most of the top commanders executed and marked for death played a major role in the overthrow and demotion of ISIS preferred leader of West Africa Province, Abu-Musab Al-Barnawi.
On why Baba Kaka was Executed, the source said, "Proceedings confirmed that the chief Judge found Amir Baba-kaka guilty of several offences. 'These include; insubordination, injustice, corruption, embezzlement of taxes, instigating mutiny and extra Judicial killings. Others include failure to uphold operational command and control of jihadist camps and unit commanders during his 4 years reign as 'governor' of the Lake Chad Tumbus – crimes which led to splits and the death of many commanders and fighters in the hands of the Nigerian Army, the Nigerian Air Force, the Chadian Army and troops from the Multi-National Joint Task Force (MNJTF).