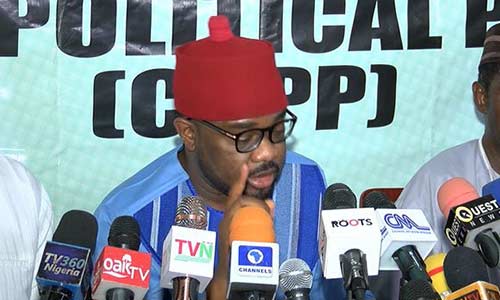 The Coalition of United Political Party (CUPP) has called for the immediate isolation of some state governors and other people who had contacts with President Muhammadu Buhari's Chief of Staff, Abba Kyari.
This news medium ad reported that Kyari, who recently arrived in Nigeria from Germany, tested positive for coronavirus on Tuesday, while President Buhari tested negative.
Kyari was said to have travelled to Germany where he is suspected to have contracted the disease on March 7 and returned about a week later.
Sources in the Presidency have disclosed that Kyari has been indoors since the test result was announced.
As of Tuesday afternoon, Nigeria has recorded a total of 42 Covid-19 cases, two deaths, and two recoveries. The forty cases cut across patients from Abuja, Lagos, Edo, Oyo, Ekiti and Ogun states.
Meanwhile, the Nigerian opposition coalition expressed gratitude to God over the negative result of President Muhammadu Buhari following his Coronavirus test.
This was contained in a statement of Tuesday, which was signed by the coalition's spokesperson, Ikenga Imo Ugochinyere.
"We wish the Chief of Staff speedy recovery and pray for divine intervention for him. We call that the best possible hands and all available resources be deployed to ensure the safety of Mallam Abba Kyari.
"He is obviously a resource to the Presidency and a trusted confidant of the President and his wellbeing will keep the President in a good frame of mind to diligently lead our country in these very trying times.
"We also use this opportunity to urge President Muhammadu Buhari to see this clean bill of health as a divine chance to be more proactive and do all within his powers to protect all Nigerians from this dreaded COVID-19.
"This chance must neither be misused nor missed as our continued nationhood now hinges strongly on it.
"The CUPP also calls for immediate self-isolation and testing of every person who has had cause to visit the Aso Rock Presidential Villa since Mallam Abba Kyari returned to the country from his foreign trip.
"The Vice President, All Ministers, Secretary to the Government of the Federation, Head of Service, all APC Governors who attended the APC leadership peace meeting.
"The Bayelsa State Governor who also visited the President, the Speaker of the House of Representatives who also met with the President on the 16th of March, all who attended the Commissioning of the Emergency Number 112 by the President on 19th March and indeed all who have visited the Villa or met with the Chief of Staff to the President since that time," the statement read in parts.
POLITICS NIGERIA recalls that Kyari was present at the peace meeting held in Aso villa on March 16 and was one of the presidential emissaries who visited Governor Yayaha Bello on March 17, following the demise of his mother.
A viral picture shared on social media showed that Governor Bello and Kyari shook hands, one of the major ways of contracting the virus.