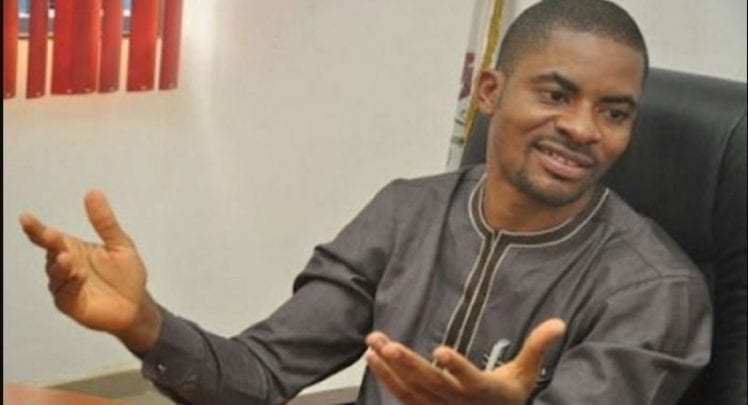 Public affairs analyst, Deji Adeyanju, has pointed out that the attack he suffered in the hands of thugs last week during a protest in Abuja is backed by the State Security Services, SSS.
Adeyanju had staged a protest in front of the headquarters of the National Human Rights Commission to make known his intent on series of disobedience to court orders by the Buhari administration, especially on the detention of Omeyele Sowore who has since been released.
He got more than what he bargained for in return, and was severely beaten by thugs. Injuries sustained during the event forced him to be flown overseas for medical treatment, after a purported brain damage.
In the protest, Deji and his fellow protesters were demanding the immediate release of the Convener of ' RevolutionNow', Omoyele Sowore. The later was recently released following pleas from various high-profiled personalities.
In a twitter release, Adeyanju indicted the secret security body of being behind the attack on him and that of the widely criticized Sowore's court rearrest.
He said: "The SSS behind my attack.
"After they failed with their gun point bribing strategy, they decided to finish me up by contracting thugs and miscreants.
"They contracted one Ali from Kano who sub contracted the tout that led the thugs who attacked me.
"They hired same people to protest at Sowore's court and had planned same attack on Sowore if his rearrest was unsuccessful.
"The leadership of this SSS is the worst in the history of Nigeria. That is why ordinary gathering intelligence on prevention of Boko Haram has become a mirage."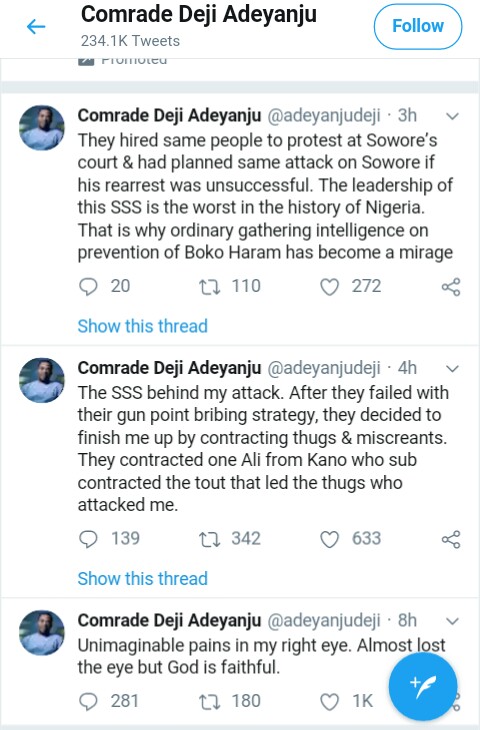 Adeyanju, A Staunch Critic Of President Buhari
Deji is a former People's Democratic Party (PDP) social media strategist and a critic of president Muhammadu Buhari.
The activist was released earlier this year after being accused of killing a Kano businessman, Alhassan Ali in 2005. The Police had arrested Adeyanju on two different occasions before his last arrest late 2018.
A Magistrate's Court in Kano granted the political activist bail after 63 days in prison. His bail terms had included payment in the sum of N500,OOO and two sureties with landed properties in Kano. To all these allegations, Adeyanju has denied every, saying he was not even in Kano on the night of the killing.
PDP's presidential candidate in the last election, Atiku Abubakar was immensely supported by the activist, although he has been sneaky when voicing out on issues concerning the PDP generally.
The convener of a group known as Concerned Nigerians had few days to the attack on him apologised to Nnamdi Kanu, the leader of the indegenous people of Biafra, IPOB, over his opinion on his flee from the country.
He had said: "You can't be saying you want Biafra and you are running away from ordinary Buhari, come back. Come back and confront Buhari like many of us are doing here.
Abi, you want to achieve Biafra on Facebook?
"Was the military not outside Keffi prison waiting to re-arrest me in December, 2018? Why didn't I run away from Nigeria like a coward? Why didn't I also compromise & collect dollars?"
Deji Adeyanju has been arrested 9 times under President Muhammadu Buhari administration. Meanwhile many had since criticized the attack on the young activist.