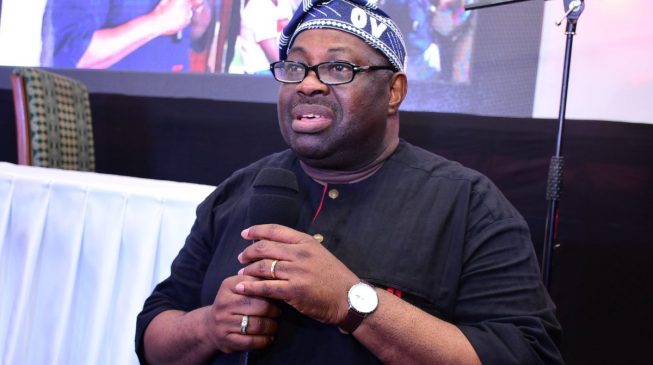 The publisher of Ovation Magazine and former presidential candidate, Dele Momodu, has criticised President Muhammadu Buhari over failure to publicly address Nigerians on coronavirus.
Mr Momodu knocked the president in his weekly column, "Pendulum" on Saturday.
He also said the president fail to surround himself with folks that speak truth to power.
"Anyone who's been following my column would have noticed the copious letters I wrote to our President in the last four years. This was based on the discussion we had when he invited me to his office in 2015. I had promised to keep him on his toes like I did to President Goodluck Jonathan before him and he seemed to have acquiesced and pleased by my selfless offer. At that time, he had told me that he was an avid reader of newspapers and that he ensured he followed what was happening in the country using the newspapers as the barometer for assessing his performance.
The popular Journalist said amidst criticism, "it is with a tinge of sadness that I observe the present trend that as for his handlers and supporters, Buhari can do no wrong. He should not be disturbed or challenged in any way and on any matter whatsoever in his gilded cage. To them, Buhari is our Alpha and Omega, a Messiah who has come to liberate us from our sins of commission and omission, give us salvation from the so-called pits of hell that the PDP had wittingly or unwittingly consigned us to in their frenzied looting spree, and we must, therefore, accept him as our Lord and saviour.
"The former presidential candidate also said Mr Buhari was wrong to have attacked the Nigerian Senate for asking him to surface, from whatever boudoir he may have been ensconced in, to address, convince and reassure the nation that he is in command and control of the CORONA virus brouhaha and the attendant panic it is now causing in Nigeria."
"Since Buhari returned to power in 2019, his demeanor has changed even more. And it is as if there is now all the time to waste. Aso Rock Presidential Villa has become a palace where the subjects come to pay homage and obeisance and pledge obedience to HE who is on the throne, who must be worshipped and obeyed. Nigeria does not merit or require an Emperor or absolute monarch at this time that we are confronted by all manner of challenges, afflictions, and difficulties. What our country desperately needs is a sober, disciplined and competent leadership and not a ceremonial or titular head. We deserve full-time attention to affairs of state, but more time is being wasted on receiving an endless retinue of political jobbers and party warriors."
"Nothing has further embarrassed us in recent times than the outbreak of CORONA virus and our vapid, tepid and uncoordinated response to it. While world leaders daily go into mental gymnastics and sweat profusely on and off the television to fashion out short, medium and long term solutions to a scourge that is causing pandemonium in the world, whilst at the same time reassuring their people that the best is being done for them, we are being told our leader does not have to talk to us. The insolence and insult are simply outrageous, and I say a big no to this."
"There is no one better or necessary to speak to us than the head of the house in the days of trials and tribulations. I am even prepared to concede that on health grounds, the President may be excused from this tedious chore. I'm also happy to admit that he may not have a good enough grasp of the issues at stake and might be embarrassed to be shown up for his lack of knowledge and clarity for the finer niceties in combatting a pandemic virulent disease, that has got the whole world practically gasping for breath. But it is unpardonable that the President will totally ignore a man as modern, cerebral, diligent and conscientious as his own Vice President, Prof Yemi Osinbajo SAN and instead ask the Secretary to the Federal Government, Mr Boss Mustapha, to handle what is a global crisis.
"With all due respect to Mr. Mustapha, I believe that Professor Yemi Osinbajo commands the status, standing, capacity, intelligence, capability, and craftsmanship not only to understand and undertake such a powerful assignment but also to coordinate and proffer solutions specifically adaptable to the Nigerian terrain. What we cannot have at this time is the cut and paste approach presently being adopted by the Presidential task force. There is a knee jerk reaction to all that is happening around us akin to a macabre kpalongo dance where the protagonists do not know where they are coming from or where they are headed", he wrote.