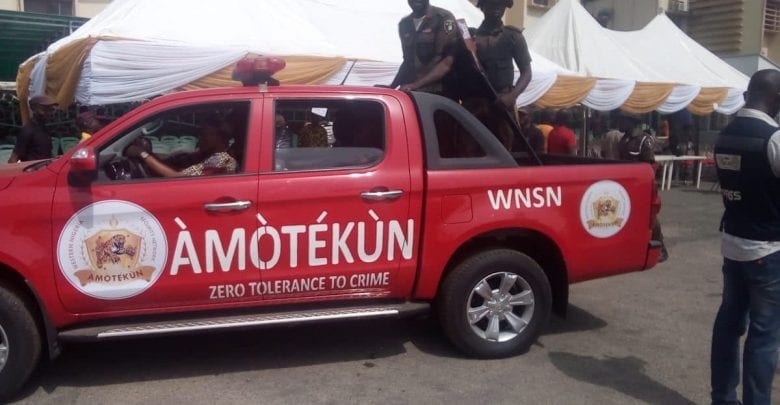 The people of Benue State and the Middle Belt has said they were not opposed to Amotekun even as they made known their intention to float a similar outfit.
According to a source who spoke to The Vanguard on condition of anonymity, even before the Federal Government's pronouncement of Amotekun as illegal, the Benue State government has been planning to start a similar initiative in the Middle Belt adding that such would only be possible in any part of the country where the state governments jointly agree to have it in place.
The source added: "You know that our zone has in the recent past suffered repeated attacks from armed herdsmen that left many dead, so having a similar outfit here will to a large extent complement the efforts of the conventional security organizations.
"But it will only take the unity and agreement of the states that make up the Middle Belt to have such in our geopolitical zone, though, efforts were being made by various parties and groups in the states of the Middle Belt to forge a common front on the matter before the pronouncement by the Federal Government.
"I must however, tell you that irrespective of the position of the Federal Government, states in the Middle Belt will not relent in efforts to ensure that the security challenges in the zone are tackled headlong and a special joint operation similar to Amotekun may be in the cards.
"Curiously, the Federal Government is not down with the initiative of the South West but states have vigilante groups and other forms of community security outfits which is just the same thing as the Amotekun they are kicking against.
"Rather than discourage the people and governments of various states from taking steps to support the fight against insecurity, I would advise the Federal Government to support the initiative. Afterall, the essence is to tackle insuring in the country."
The Attorney-General of the Federation and Minister of Justice, Abubakar Malami, SAN, had on Tuesday declared that the South West security outfit codenamed Amotekun is illegal.
However, the Chairman of the South-West Governors Forum, Governor Rotimi Akeredolu, SAN, has vowed that the six governors would pursue Operation Amotekun to a logical conclusion.