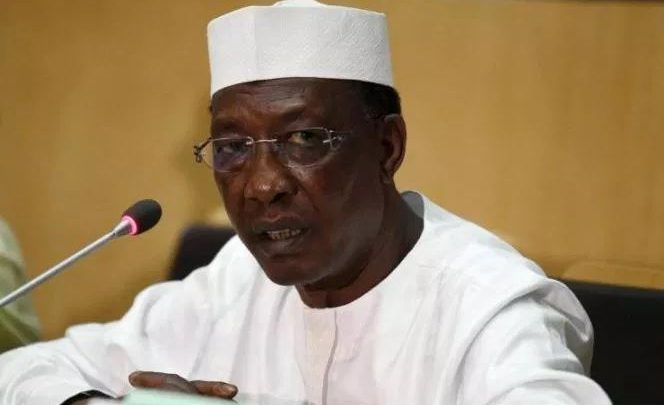 The President of Chad, Idris Deby Itno has been captured on tape warning his soldiers not to permit Nigerian troops to release captured Boko Haram members or take possession of seized weapons.
The viral video, shared several times on social media, has elicited mixed reactions from Nigerians. In the video, Deby, who was clad in full military regalia, is seen speaking to his troops amidst cheers, saying that "90% of Boko haram has been destroyed".
It will be recalled that the Chadian Military recorded a major victory against the sect after launching a strong offensive killing several terrorists and recovering a huge cache of their weapons. In the video monitored by POLITICS NIGERIA, Deby can be heard saying;
"This place will be our zone until Nigeria sends its soldiers. Stay with them for about a month. Do not let them free captured weapons or any Boko Haram terrorists, they will return to Chad and this will just hurt us."
"So let them just understand. We are not leaving the situation like this. In the next few days, I will speak with the President of Niger. You guys destroyed at least 90 per cent of Boko Haram. That I confirm and can tell the world that 90 per cent of Boko Haram is destroyed."
"The 10 per cent that are left are running everywhere. Some have drowned and some ran to Niger, some to Nigeria but they will never come to Chad again. Chad is no place for Boko Haram."
However, on Saturday, Nigeria's chief of Army Staff, Tukur Buratai relocated to the north-east to finalize operations for a full-on offensive against remnants of the terror organization.
VIDEO: "Tchad is no place for #BokoHaram" @IdrissDebyI President of Tchad Republic pic.twitter.com/nHTbcUkGQb

— Dan-Borno (@DanBorno) April 10, 2020