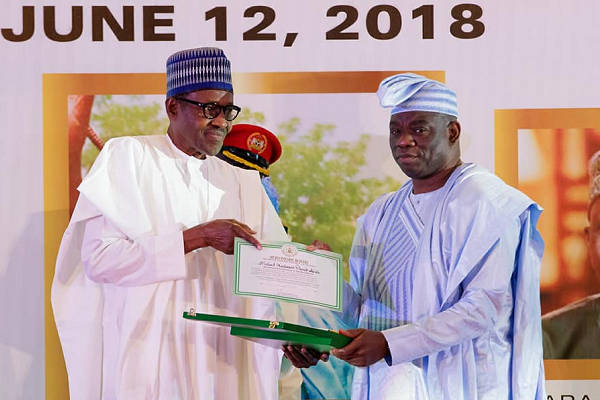 The June 12 struggle still fresh in the memories of our leaders, many of whom were younger and played active roles. But major lessons from the episode are still missing in this dispensation.
The annulment of the 1993 Presidential election altered the transition from the military rule to the civilian rule, which many Nigerians looked forward to. It was reportedly the freest and fairest election conducted in the history of the country as Nigerians spoke loudly.
They all wanted one man. Moshood Abiola. So, they voted like their survival depended on it. Religious sentiments and ethnic bias were set aside. The people voted massively for a Muslim-Muslim ticket.
While Abiola was coasting to victory, the General Ibrahim Babangida annulled the election. He robbed millions of Nigerians the second chance to elect their leader after the 1979 election.
Today, the events of June 12 1993 have become historical references but have our leaders learnt anything significant?
Beyond celebrating the heroes and vanguards of our democracy whose contributions cannot be eroded from the books of history, the June12 commemoration is a day of reflection for us as the most populous black nation in the world. Needless to say that Abraham Lincoln's definition of democracy ascribes all powers to the people. The reality, however, says that the government elected to serve the people is more powerful than the electorate.
Firstly, credible elections are the oxygen of any growing democracy. Our electoral processes have been marred by heavy militarization, violence and other malpractices like vote-buying. If our elections are still not as organised and credible as the 1993, our celebration is a misplaced priority.
The arm of government saddled with the role of checks and balances have been utterly weakened by party politics and insincerity. It is no exaggeration that the Nigerian Senate that should checkmate the excesses of the executive has become a toothless dog that wags its tail at the sight of bones in the hands of its owner.
The fourth estate empowered by the constitution to hold powers to account is scampering to find its voice. The President Muhammadu Buhari-led administration, more than previous civilian governments, have made numerous attempts to muffle the voice of the press. If the media is gagged and the press is censored, the people are tactically disenfranchised because an uninformed society is a deformed one.
The civic space is shrinking day by day, courtesy of the tyrannical moves of the government. Freedom to protest has been replaced with 'shoot on sight' order and protesters are subjected to assault of security operatives should they attempt to demonstrate.
It then brings us to the ultimate question, what have our leaders learnt from the June 12 struggle?