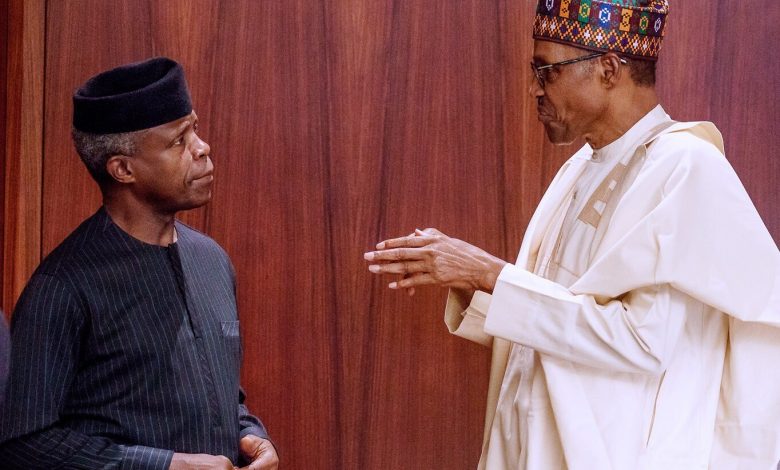 The Absence of President Muhammadu Buhari and his Vice, Yemi Osinbajo at the funeral ceremony of Late Chief of Army Staff, Lt. Gen. Ibrahim Attahiru, has drawn severe criticism from a lot of Nigerians.
Attahiru and several other military officers died in a plane crash on Friday, sending the nation into mourning. Shockingly at his Funeral in Abuja on Saturday, President Buhari and VP Osinbajo were no where to be found.
Unfortunately, this is not the first time the president has shunned such a national event.
POLITICS NIGERIA recalls that President Buhari has a history of showing no respect for supposed heroes when they lose their lives struggling for a peaceful Nigeria.
He was absent at the burial of soldiers killed by Boko Haram in Metele, Borno State in 2018 and he never attended the burial of the Five Nigerian Air Force officers, who died while prosecuting the war on terror in 2019.
Buhari was also a 'no show' in December 2020 when 300 schoolboys were abducted in Kankara even though he was on vacation at his country home, in Katsina, which was not far from the scene of abductions.
Attahiru, others burial
A day after their death, Mr Attahiru, a lieutenant general, and 10 other officers were buried at the National Military Cemetery, Abuja and Mr Buhari was absent. This is despite the fact that the operatives were on official assignment when they had a plane crash. They were traveling to the Depot Nigerian Army, Zaria for the passing out parade of regular recruits which was meant to take place on Saturday.
POLITICS NIGERIA understands that six of the officers were muslims and their funeral service held at the National Mosque, Abuja. For the others who were Christians, their burial rites were held at the Nigerian Air Force Protestant Church, Abuja before they were all transported to the National Military Cemetery along Airport Road for internment.
Tears of sorrow
For the family and friends of the deceased, it was a sad day but the president, who should show spirit of comradeship was absent. Instead, he sent the Secretary to the Government of the Federation, Boss Mustapha; Chief of Staff to the President, Ibrahim Gambari; Minister of Information and Culture, Lai Mohammed and Minister of Communications and Digital Strategy, Isa Pantami.
Many Nigerians were worried and some people voiced their anger. A lawyer and right activist, Inibehe Effiong asked on Facebook that : "I ask again, where is the President and Commander-in-Chief of the Armed Forces of the Federal Republic of Nigeria? When the occupant of the highest office in the land becomes so redundant to the point that he cannot attend the funeral of his Chief of Army Staff and other officers who died in a plane crash while on official assignment, it is an indication that the country is leaderless. Buhari has become a mere mannequin. He is neither useful to the country nor to humanity."
A former Aviation minister, Femi Fani-Kayode stated; "First our President refuses to attend the COAS' burial even though he was in Abuja. The Minister of Defence was there & instead of talking sense he said he had "come to express" his "heartless felt condolences". Talking about a Freudian slip!!! How much worse can this show get!"
Social Commentator, JJ Omojuwa tweeted; "If you can go to France, you can attend the burial of your COAS + others and use that platform as an opportunity to reassure your troops whilst celebrating the loss of our gallant men. But I shouldn't tweet this. I shouldn't attract unnecessary negative energy to my timeline."
Despite the outrage, the president's media aides, Femi Adesina and Garba Shehu, have failed to comment on why the president did not personally attend such a high-profile funeral.
Governors also absent 
While the funeral was ongoing, many Nigerian governors, ministers, and lawmakers on Saturday, attended the wedding ceremony of a son of the Attorney-General of the Federation and Minister of Justice, Abubakar Malami, in Kano State.
Governor Ganduje's media aide, Abubakar Ibrahim, in a statement, disclosed that Abirul-Rahman Malami wedded Aisha Umar at Alfurqan Juma'at mosque in the Kano metropolis. Mr Ibrahim said Mr Ganduje was the bride's trustee while his Sokoto counterpart, Aminu Tambuwal, served as the groom's trustee.
Other governors at the event were Inuwa Yahaya of Gombe State, Atiku Bagudu of Kebbi State and Bello Matawalle of Zamfara State.
Buhari has no excuse – Public commentator
A public  commentator,  Taiwo Hassan-Adebayo, said he is not shocked by the president 's actions and inactions.
"I'm not shocked. I never thought the President was going to do more than expressing shock through some statement signed off by one of his media aides. He has rarely ever demonstrated a sense of responsibility at a time of serious tragedies, including when mass murder of soldiers and civilians happened. Nothing shocks him, at least as far as we know in the public."
"But I reckon he missed an opportunity to encourage the armed forces at a time when they lost their men and senior officers, including an army chief, who had promised them some reforms and improved service conditions."
Speaking on governors who attended Mr Malami's son wedding, he said "does anyone think that if the President had delivered a national address, declared a national mourning phase, and indicated he would be attending the military funeral, those governors wouldn't have been at AGF Malami's party, photographed merrymaking on the day the Chief of Staff and other officers and men were buried following a plane crash?"
"If anybody must attend the AGF Malami's party and merrymaking at all, it should never have been the Governors of Zamfara and Yobe. These are two of the states worst impacted by terrorism/banditry, which the fallen Chief of Army Staff was, until his death, leading his force to combat."
"These guys horrify me. Our leadership recruitment process is flawed. Abominable villains get to positions of serious public responsibility."
"Even without the death of COAS, should the Governors of states where terrorists are reigning with abominable cruelty be seen merrymaking?" he said.