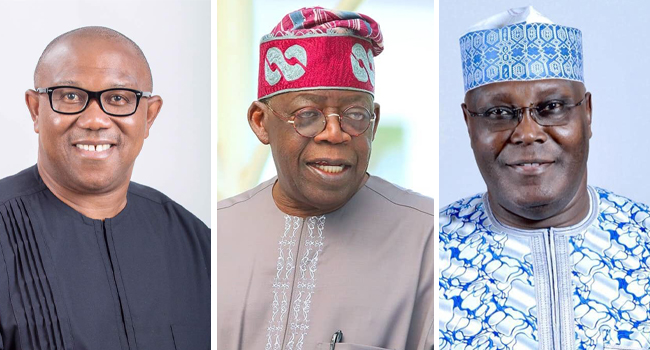 In a few days, election petitions tribunals across the country will be declaring their verdicts on cases that arose from the 2023 presidential, governorship, National and state assembly  polls.
More interesting to most Nigerians is the verdict on election petitions by Atiku Abubakar (PDP) and Peter Obi (Labour Party) against President Bola Tinubu (APC).
Politics Nigeria recalls that the presidential election petition tribunal had reserved judgment as the petitioners – Atiku and Obi – closed their cases in June after calling 40 out of the 150 witnesses earlier listed in their petitions challenging Tinubu's victory at the polls.
While Tinubu's lawyer prayed for a successful outcome, Atiku's legal team admonished the tribunal to "shun executive intimidation and dispense judgment on the matter.''
Similarly, the elections results announced by the Independent National Electoral Commission (INEC) are being  at least 25 of the 28 states where polls were conducted.
Some tribunals which were sitting in Lagos, Sokoto, Delta, Kano, and 21 other states as well as Abuja had reserved their judgments after the parties concluded their hearings and adopted their written addresses in line with the practice direction for the election petitions issued by president of the Court of Appeal, Justice Monica Dongban-Mensen.
But Section 285 (6) of the 1999 constitution provides that "an election tribunal shall deliver judgment in writing within 180 days from the date of filing of the petition."
Given this constitutional provision, the deadline for delivering judgement on the presidential election is September 16, 2023 and September 30, 2023 for governorship elections.
It is, however, unclear whether the tribunals will declare their judgments on or before these dates.
While most Nigerians are becoming more anxious as the day draws near, there seem to be no pressure within the political parties.
APC's director of publicity, Bala Ibrahim, said the ruling party was not under any form of pressure and expressed confidence that justice would be served.
"Which pressure? The ruling party has already delivered, unlike the Labour Party which is still groaning in labour. The pressure is on them. Obviously, anyone that is in labour is likely to be under pressure,'' he said.
But a member of Atiku's legal team, Mike Ozekhome (SAN) urged the tribunal to dispense justice on the matter.
Ozekhome said: "I expect justice to be done. I expect the tribunal to shun blaring sirens of power or executive intimidation to do justice. I expect the tribunal to know that Nigerians, the international community, and indeed the whole world are watching."