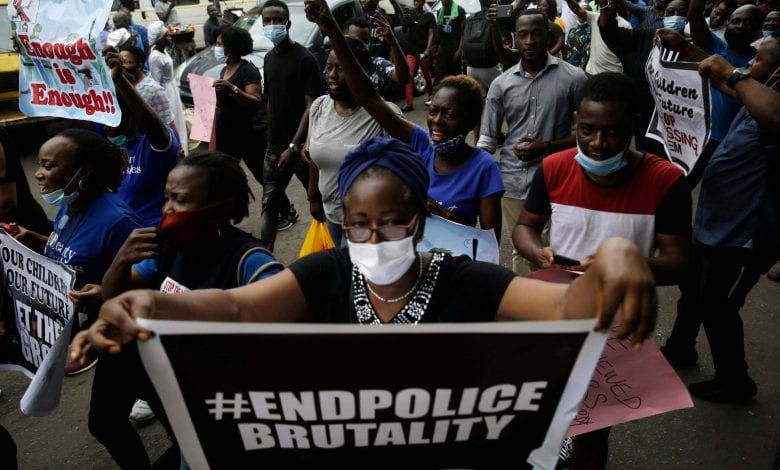 Bolatito Oduala popularly known as Savvy Rinu, has told the Commissioner of police Lagos State Command, Hakeem Odumosu, that he cannot stop protesters from demonstrating to mark the #EndSARS first anniversary on October 20.
POLITICS NIGERIA recalls that Odumosu had on Monday announced that the police will use all legitimate means within their constitutional powers to suppress any planned protest.
Odumosu said that credible intelligence at the disposal of the Command has revealed clandestine plans by some youths, individuals and groups to embark on protest next week in commemoration of one year anniversary of ENDSARS.
According to Odumosu, "Lagosian and indeed Nigerians cannot afford to relive the distasteful experience of last year protest which caused pain, anguish, needless loss of lives and wanton destruction of public and private property".
But Rinu remains defiant.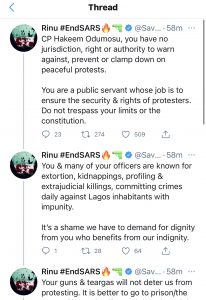 "CP Hakeem Odumosu, you have no jurisdiction, right or authority to warn against, prevent or clamp down on peaceful protests," she said via her verified Twitter handle on Wednesday.
"You are a public servant whose job is to ensure the security & rights of protesters. Do not trespass your limits or the constitution.
"You & many of your officers are known for extortion, kidnappings, profiling & extrajudicial killings, committing crimes daily against Lagos inhabitants with impunity.
"It's a shame we have to demand for dignity from you who benefits from our indignity.
"Your guns & teargas will not deter us from protesting. It is better to go to prison/the court of law to justify our rights, than sit in the court of our conscience to justify our fear.
"That fear won't still save us from being extorted or killed extrajudicially by your officers.
"Any attempt of yours to encroach on our fundamental rights to protest shall be resisted.
Evil will not last forever."