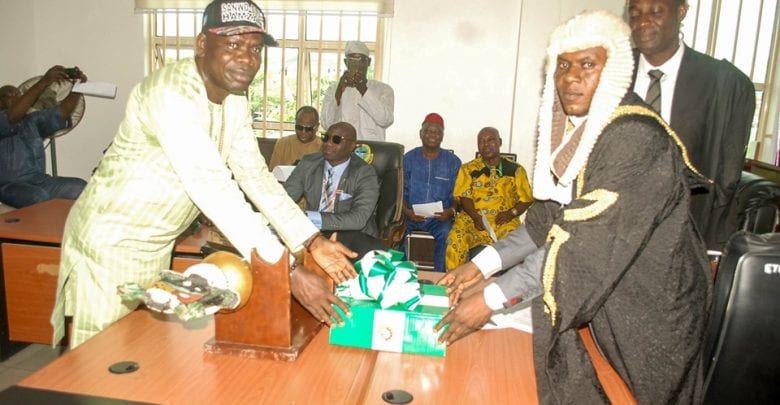 The Executive Chairman of Eti-Osa Local Government, Hon. Saheed Adesegun Bankole, on Friday, presented N1.6billion budget to the Legislative Council. Tagged "Budget Of Continuity", Hon. Bankole said the budget will focus on enhancing the quality of life of the people as depicted by the 60:40 recurrent to capital ratio. It will also be used to continue the developmental projects and programmes the administration had embarked upon in the past years.
Presenting the budget to the Leader of The House, Hon. Ogunderu Muftau, the Executive Chairman said the year 2019 Budget will be used for personnel cost which amounted to N280,000,000. of the total N1.617,600,000.00; N155,000,000.00 will go for salaries of teachers in the local government area. To cover for Overheads we are proposing N535,550,000.00
Hon. Bankole added that the administration is putting words into action by ensuring that the 2019 proposed budget focuses on enhancing the quality of life of the people, as such administrative spending has been reduced by pooling funds from less productive activities to fund expenditure on social services and non-current assets to enable provision of basic infrastructural services, timely completion of projects, upgrade of facilities, repairs and rehabilitation so that the productive capabilities in the economy are maximized.
Responding, the Leader of The House, assured that the budget would be examined and promptly implemented to help Hon. Bankole's administration achieve the desired goals for the year.
The budget presentation was witnessed by community leaders and party chieftains in the local government among whom was the LGA Chairman of All Progressives Congress (APC), Mondiu Kolawole Shade (JP), S.A to the Governor on CBD. Hon. Anofiu Olanrewaju Elegushi, and key Council functionaries.