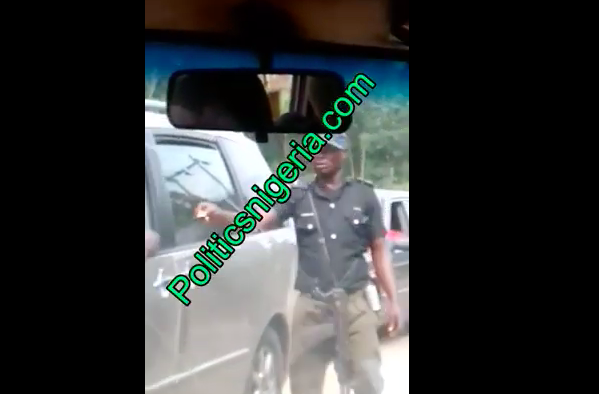 An unidentified police officer has been caught on camera extorting motorists in Cross River State.
In an exclusive video obtained by POLITICS NIGERIA, the police officer was seen extorting road users in broad daylight on Calabar-Ikom highway, after Okomita in Akamkpa Local Government of the state on Tuesday.
Police officers have continued the culture of extortion at checkpoints despite decades of condemnation by the Nigerian public and foreign think-tanks. Mounting roadblocks is one of the easiest ways for officers to shake down motorists.
A source told POLITICS NIGERIA that: "The police created traffic all in the name of extorting motorists."
In recent decades, many officers have been exposed through social media. While some have been punished, many have gone unscratched.
Hence, the bribery and corruption menace still continue. In 2013, a sergeant was dismissed after a viral video showed him soliciting bribes from motorists in Lagos.
This newspaper on Tuesday however, contacted, Irene Ugbo, police spokesperson in Cross River. He did not respond to our correspondent calls and text messages on our findings.
Watch the video below: