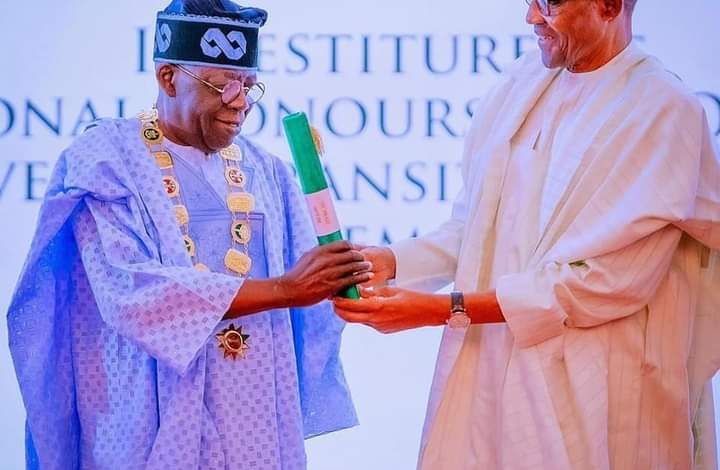 The President-elect, Bola Tinubu, has said President Muhammadu Buhari should always expect knocks on his doors after leaving office, Politics Nigeria reports.
On Thursday, Tinubu was conferred with the Grand Commander of the Order of the Federal Republic (GCFR), the highest national honour.
While Kashim Shettima, the vice-president-elect, was bestowed with the Grand Commander of the Order of the Niger (GCON)
Speaking after receiving the honour in Abuja, Tinubu told President Muhammdu Buhari to expect knocks on his doors.
He said, "I understand the honour given to me today and the magnitude of the task ahead; whether you go to Daura or Niger Republic, expect knocks on your doors," he said.
Tinubu, who is expected to be sworn in as president on May 29, said he will not disappoint Buhari and Nigerians.
He also praised the outgoing president for honouring the late MKO Abiola, the winner of the annulled June 12, 1993 presidential election.
"President Buhari, you have shown courage in taking tough decisions others avoided One such decision was to recognize the injustice of the annulment of the 1993 election, to designate June as Democracy Day, and to bestow the nation's highest honour on the late MKO Abiola," Tinubu said.
"As much as anyone could, you reached back into history to set the record straight and heal a festering wound. The justice you did in this matter lends special meaning to today.
" I am a simple man who is the beneficiary of the support and goodwill of the people of Nigeria. The people have put their trust in us. You have done your part Mr. President.
"Now, that great duty descends on me. I understand the meaning of the honour given to me today and of the task that awaits.
"I must run this race and must do it well. On security, the economy, agriculture, jobs, education, health and power and in all other sectors we must make headway. The people deserve no less. In this, I shall disappoint neither them nor you, Mr. President."