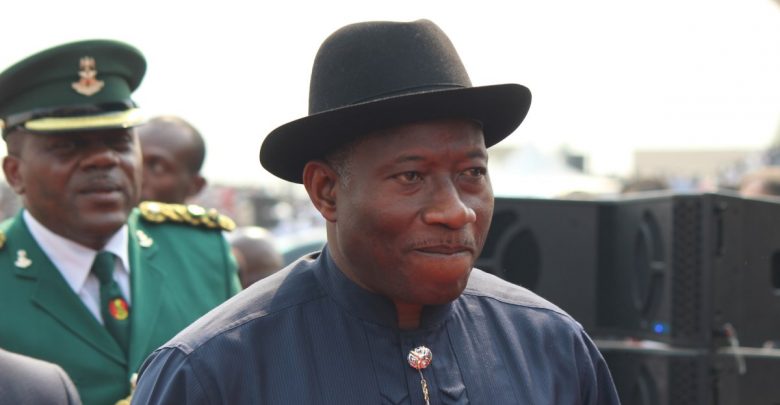 Who does not love Former President Goodluck Ebele Jonathan? Yes, there are some who do not (the number is growing in recent times), but then, Jonathan is Nigeria's Obama. Many accord him – despite, true, one or two flaws here and there – the "Hero of Democracy" title in Nigeria, same way they do Barrack. He did not fight the loss in 2015, you saw his human side every time when he talked about his handicaps, we saw the Boko Haram insurgency hurt him, he wrote several books we all love even though the much anticipated book had fall short of expectations as the book did not explicitly explain what truly transpired in 2015 that led to him being ousted in 2015.
Jonathan in the book of many Nigerians, is the gold standard for a good President. But then, there is a certain Patience Jonathan beside him.
His Wife, Patience Jonathan is loved too by many, her stubborn resistance against appearing a certain way to the general public bought the admiration of many who saw it as a breath of fresh air in the sycophancy-chocked political caucuses in Nigeria. It is also this stubbornness that, behind the curtain, has stained her hands, co-opted her husband in a lot of shady dealings, and has brought her at loggerheads with many people in power, popular among which is her heated spat with former governor of Rivers State and current Minister of Transport, Rt. Hon. Rotimi Chibuike Amaechi.
Up to this day, Goodluck Jonathan would tell you he never had any problem with Rotimi Amaechi, but Patience made the former governor to look like he betrayed his people in 2015. No respectable person would tolerate what Patience did to Amaechi, and funny thing is that if Amaechi were to open his mouth to say what he knows about Patience and her husband, nobody will ever regard the two again. It's that stark.
The just-concluded Bayelsa elections saw David Lyon beat Sen. Duoye Diri with a landslide. The same elections, amid several instances of already written result sheets brought from Aridolf Hotel in Yenagoa (Owned by the Jonathans) a day before the elections to shameful violent displays that give little hope by way of credibility in the future of elections in Nigeria, has sprung up a series of events that make you just wonder what is going on. Those in tune with the political sphere in Bayelsa State know that the chief reason why it seemed Timi Alaibe had no backing, and eventually Douye Diri lost a lot of leverage is the purported falling out between Former President Goodluck Jonathan and Governor Seriake Dickson. There was no falling out. Jonathan had reached the point where Patience's excesses had begun haunting him so much that he had to make moves that opposed his public image; moves that are threatening his reputation, and a few more to come that place him smack in the middle of scandals you did not know were brewing in Nigeria.
He did what he did, and is doing what he's doing, for his name and his wife's freedom. The honest truth is that Former President Jonathan has pledged fealty to President Buhari and the APC. Jonathan is a survivalist who has sold out to keep himself and his family safe. I'll explain.
The Meeting with President Buhari
Circa, 11th of October 2019; A Meeting of Two Presidents, and the name, "Malabu".
In 2011, as a former Minister of Petroleum under Military Dictator, General Sani Abacha, Dan Etete facilitated the transfer of payment of $1.1 billion to Malabu Oil and Gas. The Economist reports that only $800 million out of the $1.1 billion was ever remitted to the Nigerian government. $300 million (N108 billion) is missing.
Today, the EFCC has an arrest warrant for Dan Etete, Mohammed Adoke (ex-attorney general), and Eni Manager, Roberto Casula. Another report says that $1.1 billion of the total was siphoned to agents and middlemen. The case has spawned several legal cases spanning several countries, involving Nigerian government officials and senior ENI and Shell executives. Of course, Shell and ENI have denied any wrongdoing. Shell came into this deal in 2001, after a failed illegal attempt in 1999. This deal was finally consummated when President Jonathan was in Power.
The Malabu deal conspiracy has revealed too many players than all the names previously mentioned, and hands are dirty all over the place. The request for President Jonathan to give a statement came first in 2017, and somehow, it died down. Jonathan had to make a trip to the Villa. This trip led to a meeting that was known to have occurred on Friday, 11th October, 2019.
You would recall that the outspoken former governor of Jigawa state, Dr. Sule Lamido had in in an explosive interview with Daily Sun accused the former President of betraying the People's Democratic Party in Bayelsa because the federal government is "blackmailing him" over malabu issue.
After INEC announcement of APC candidate, David Lyon as winner of the November 16 governorship election in Bayelsa, Jonathan, in what came as a shock to many, received APC chieftains at his residence in Otuoke.
The former minister of Foreign affairs and two term governor of Jigawa said, "I can't imagine a former president selling his own state to the opposition — to the very party which called him names, which demonized him.
"They are holding him by the balls. Because he (Jonathan) sure knows his problem with Buhari and with this government. And the issue of Malabo, I think, played a key role, I said so. So, the election were won and lost by PDP. PDP history, PDP tradition and Jonathan were behind him. That I can say anywhere because the issue of Malabo is an issue I know very well. I had cause to discuss it with him.
Lamido further explained that, "While he was the president and I was in office, I went and told him about it. I told him and I also gave a radio interview to an FM in Abuja, which Daily Triumph picked, where they said a minister under Jonathan got almost 150 million dollars Malabo scan — Governor Lamido. And when Reuben Abati came to debunk it or to abuse me, I went to Reuben Abati, I know what I am saying, can we go to the Villa, I discussed this with Jonathan. I told him about it. Let us go.
"What I am saying is that obviously because the leadership of the APC and the government are blackmailing Jonathan and I think I can say it anywhere that he traded this for his own freedom."
The details of the meeting:
Sources within the Presidential Villa have revealed that Goodluck Jonathan needed the EFCC to give his wife some breathing space and himself a clean slate over The Malabu deal and another yet to be revealed major scandal that may eventually drag his name in the mud – (Enter Abdulrasheed Maina and Allen Onyeama, we will give the details of this later). No big deal, this was going to be granted, if he was to do certain things. Politically-motivated quid pro quos are like bread and Coca-Cola in Nigeria. The conditions attached were:
Jonathan and his entire household (Including the corruption ring as our source calls them) would support the APC in all elections in the South South and in Nigeria at large, a proposition easily put forward by GEJ himself and accepted by President Buhari. And if you have been paying attention, you would see the loudness of Jonathan's silence on key political issues since 2018, he never condemned Walter Onnoghen's illegal suspension, he never condemned the massive irregularities that took place in the General elections even though he claimed to support Atiku and the PDP, he never spoke against the electoral violence and the heated polity in Rivers State which affected Governor Nyesom Wike, who is very close to him and his wife.
Furthermore, GEJ's support for the APC candidate in the recently concluded electoral fraud in Bayelsa is another indication of a man clutching for survival.
According to a source, President Buhari's words were, "The money is too much, just ask your wife and associates to return some," and indeed some have been returned but that isn't all in the deal.
Jonathan had also appealed to President Buhari to drop the charges against Colonel Sambo Dasuki, Jonathan's former NSA, who had been incarcerated since 2015 but this was outrightly rejected by the President who has had a long-standing beef with the former NSA man.
Former pensions boss Abdulrasheed Maina's name was also thrown into the deal as the case against him is becoming increasingly serious and he may squeal Jonathan's name as the beneficiary of most his loot as his office was used to fund parts of the 2015 elections.
• Former Petroleum Minister during Jonathan regime, Diezani Alison Madueke's name was also thrown into the hat. President Buhari picked it up. He is granting the wish to have the EFCC soften up on her. In fact, her charges are almost dropped.
• To support the APC, no matter what his words in the media are and this was immediately reflected in Jonathan's disposition in the just concluded sham of an elections in Bayelsa where his support was largely tilted to the APC.
Jonathan's Silence on PDP and support of the APC.
After the sham of an elections in Bayelsa that saw APC emerge victorious, the initial rumor was that he had fallen out with Governor Dickson over the choice of a candidate for the PDP in Bayelsa, a rumor that has largely been proven to be false. Goodluck Jonathan had already pledged to support the APC with his family not just in the Bayelsa elections that just passed, but nationwide.
Truth is, we can't seem to find any words in the media. Jonathan is not speaking, for a former president and commander-in-chief of the armed forces of Nigeria. If at all he is saying something, it's very often roundabout in nature. Political correctness is the order of his day these days. This is because since 2015, he has been fighting the battle of his life. He is very afraid to comment on national issues. He did not at all issue any personally signed public statement over the last general elections where Atiku was outrightly rigged out. He did not speak out over the unjust removal of Justice Onnoghen. He did not attempt to release a statement condemning what happened in Rivers State in the last general elections even though he and his wife are very close to Governor Nyesom Wike.
And so the dots are connected, and connecting, and more is being unfolded. It is easy to pity the man, and shame the wife. It is easy to hate his successor and cry foul over the fact that the EFCC really is not independent. It is easy to deride Mama Peace's front man (who is an APC man now, by the way), and cry each time the US (and the rest of the international community) launches a new probe into Nigeria and Nigerians. It is easy to wonder how much money can take control of a man, how much OPL 245 (Malabu) has outlasted regimes (1998-present) because of money.
The Air Peace and Mama Peace scandal
The Malabu oil scandal is not the only threat on Goodluck Jonathan's good name, a name he so rightly protects. His wife's excesses are a part of his problem and this time it comes with a very familiar name in the Sky "Air Peace".
"Air Peace" is to "Mama Peace" is to "Patience Jonathan" is to "Six Years in Aso Rock Collecting Loot, and Putting Her Husband in Trouble". Yes, you heard the rumours and they are true.
Recently, the US Department of Justice released a document on the probe into Air Peace, and the $20 million indictment of Mr. Allen Onyeama. This indictment includes 27 counts of bank fraud between 2010 and 2018 (The reign of Air Peace). Over $3 million of the money used to purchase airplanes for Airpeace came from foundations he started. Springfield Avaiation Company LLC never owned the aircrafts sold to Air Peace and the company that allegedly drafted the appraisals did not exist.
The EFCC is clamping down on Mr Onyeama who is just a front and the real owners of Nigeria's fastest airline, the Jonathans are trying to keep their names out of it, a fealty owed to Buhari must be paid and this debt is simple, an allegiance to the APC.
This explains Goodluck Jonathan's recent support for the APC and silence on the PDP, a man trying to salvage his name, a man trying to save his family from disgrace, a survivalist who would do anything to not pay for his many crimes financial crimes against the Nigerian people. A man masquerading as a hero so that his name can be used to perpetuate illegality in elections.
This is only the beginning.
The Air Peace saga throws up familiar names in the Goodluck Jonathan administration prior to 2015 who at the directive of Patience Jonathan used the Niger Delta Development Commission (NDDC) and Niger Delta Amnesty office to loot monies and use same to setup Air Peace and then use Mr. Allen Onyeama as a front man for the airline business.
But it's not just Mr. Allen Onyeama that's tied to the corruption ring that the Jonathans have setup. In the coming days you will hear the names of one Abdulrasheed Maina, Timi Alaibe, Kingsley Kuku, Alex Badeh, etc.
This web of corruption is so intertwined that it will take only an insider to give the full details of how deep it runs.
Credits: Leaders NG