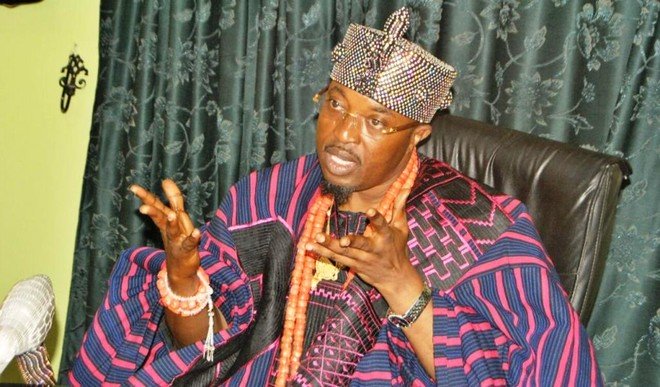 Oba Abdulrasheed Akanbi, the Oluwo of Iwo, has said indigenes of the town are entitled to the throne of Ooni in Ile-Ife, the ancestral home of the Yorubas.
The controversial monarch stated this in a live chat with the British Broadcasting Corporation (BBC) on Friday afternoon. The conversation was transmitted via Facebook app.
When BBC's Opeyemi Olawale asked him about his relationship with the current Ooni of Ife, Enitan Ogunwusi, he simply said: "We should all thank God. Everything is good between myself and the king."
Recall that In February 2018, there was rancour between the two kings.
Mr Akanbi alleged that Mr Ogunwusi ordered his bodyguard to push him out of the way during a meeting of traditional rulers in the country held in Port Harcourt, the Rivers State capital.
While Mr Ogunwusi denied a rift between him and the Oluwo, Mr Akanbi in April 2018 said there was a racour which was later settled at a meeting of the Osun State Council of Traditional Rulers.
However, on Friday, when Mr Akanbi was probed about a controversial trip to Ife he embarked on sometimes ago, after he was crowned in 2016; he explained why the indigenes of Iwo are entitled to the throne of Ooni.
"It is a history not known to Iwo people. The way Kings are enthroned in Yoruba land is what I want to tell you today. There's something called gazette. Both in Ile-Ife and Iwo town, there are four ruling families, according to the gazette.
"Once a king dies, his successor will come from any of the ruling families stated in the gazette, which is with the government.
"In Ile-Ife, my family is also part of the Royal houses there. The Luwo owodo (Lafogido) family, named after one of my matriarchs, is one of the ruling houses," he noted.
Mr Akanbi restated that the historical information is a fact unknown to Iwo indigenes because "they don't know their potentials and what can become of them in the future. It can be in 100 years…
"These are things I tell them for them to know their source. They came from where the throne comes from," the Iwo ruler added.
He then clarified that he was not the one who went to Ife as rumoured.
"It was members of our family in Ife that came to Iwo here to confirm everything I have said. I'm a Prince in ife just like any heir of the throne in Ife," he said.
Meanwhile, the monarch refused to respond to the allegations leveled against him by his ex-Queen, who was sent packing due to " unreconciliable differences".
POLITICS NIGERIA reported how the former Queen, Chanel Chin, accused Mr Akanbi of being a rapist and an Indian hemp smoker.
"God is the one who chose for humans. What is more important is what I do for my town. Let's allow God to take control of that," he said in response to questions about the crowning of a new queen.