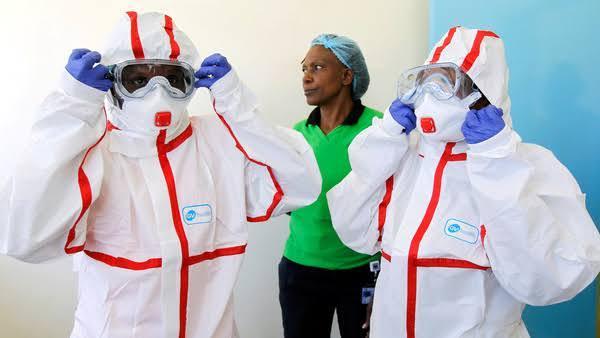 Nigeria has a long-running battle with misinformation and disinformation. In times of health pandemics, misinformation, or false information shared unintentionally, becomes especially harmful.
This was evident during the Ebola crisis in Nigeria; similar dynamics are coming to play with the current coronavirus [COVID-19] pandemic.
Since the World Health Organisation has declared the COVID-19 outbreak an epidemic, it is worthy to look inwards to our context and examine the ways Nigerians are confronted with fake news.
POLITICS NIGERIA in this report looks at various report debunked during this period.
CLAIM: The former President Olusegun Obasanjo said ''there is no coronavirus in Nigeria, The minister of health cooks the story to defraud the Government, I want to see the Italian man, I wan get the virus too."
The story turned out to be false. It was as established that the former President never made the statement.
A fact check by a fact-checking initiative by Premium Times, Dubawa, also gave their verdict as false.
CLAIM: WHO Coronavirus Job ScamA WhatsApp message that has been shared extensively, especially in WhatsApp Groups in Nigeria, is offering applicants $5-$100 to work daily 2-3 hours on mobile at the World Health Organization fighting Coronavirus.
This story which was widely shared on WhatsApp was an attempt to exploit Nigeria's unemployed youth for monetary gain.
CLAIM: Garlic and Pepper Soup Can Cure Coronavirus
Amongst others, the list includes drinking alcohol, regular sex, saltwater, and pepper soup as Coronavirus cures.
However, there is no evidence to suggest that any of these can cure Coronavirus.
Experts from the World Health Organization, Nigeria's Centre for Disease Control and leading epidemiologists around the world have maintained no treatments exist, yet.
According to the WHO's website, "Garlic is a healthy food that may have some antimicrobial properties. However, no evidence from the current outbreak eating garlic has protected people from the new Coronavirus."
CLAIM: Constant Sex Can Kill Coronavirus
A viral image stated that Constant sex kills Coronavirus. The screenshot of a Fake CNN Newscaster with news headline has been shared widely across social media and popular messaging app WhatsApp.
The image featured CNN's, Wolf Blitzer. Instead, sex is a risk factor as such close contact with an infected person will expose the partner to the disease.
CLAIM: African Blood is Immune to Coronavirus
On February 10, 2020, multiple sources including Abia Pulse News, Kenya Bulletin, African Daily Mail and CityScrollz published a story with the claim that the African Blood Genes are resistant to the Corona Virus.
Following low reported cases of Coronavirus in Africa, multiple sources including Abia Pulse News, Kenya Bulletin, African Daily Mail and CityScrollz published stories with the claim that the African Blood Genes are resistant to the virus.
The report claimed that the Chinese doctors released one Senou, a Cameroonian student who had been infected by the virus after he was cleared and confirmed cured. A UK-based specialist in infectious diseases and epidemics, Paul Hunter, told DW that the absence of Covid-19 on the continent (in early February) might be mainly due to luck.
There is nothing special about Africa not having seen a case (at the time the info went viral) other than a pure chance at the moment.
Through 26 countries in 2003 but failed to gain a hold in Africa. There is no such thing as the "African blood gene", and therefore no evidence to support the claim that 'African Blood Gene' has immunity to the Covid-19 (Coronavirus).