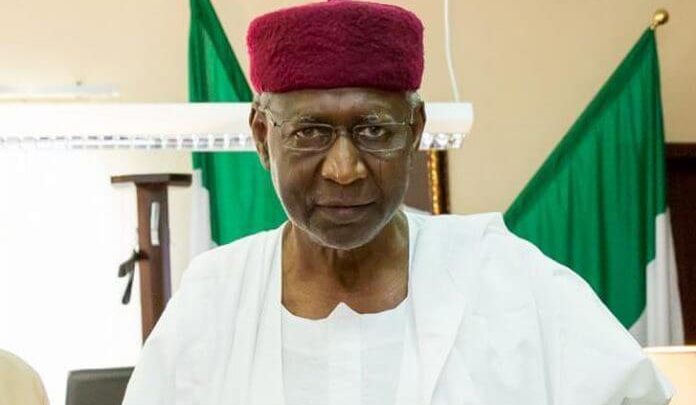 The Chief-of-Staff to the President, Abba Kyari, has been making headlines after he tested positive to the deadly respiratory disease, COVID-19, last Monday.
After testing positive, hoaxes and fake news have been spewed about the location of Mr Kyari and the state of his health. POLITICS NIGERIA cannot categorically state the intention behind these acts.
Kyari's itinerary showed that he visited Germany and Egypt with the Minister of Power, Saleh Mamman where they met Siemens officials over the power deal signed with the company in February.
Germany is one of the high-risk countries as far as the pandemic is concerned. Kyari is said to have been born in 1938 and had generally been in poor health.
Nigerians have on several occasions trolled the Presidential aide, who is believed to have wielded more executive power than the Vice president Yemi Osinbajo.
POLITICS NIGERIA also understands that the chief of staff is a very close ally of President Muhammadu Buhari, a former military general born in 1942.
CLAIM: RootstvNigeria, in a report published on March 27, claimed that Mr Kyari was sighted at Wellington Hospital in London.
The media platform said; "While RootstvNigeria has not independently verified, a highly placed source disclosed that the "President's Chief-of-Staff is receiving medical attention at Wellington Hospital but his medical condition is deteriorating haven tested positive to COVID-19."
The story, when shared on the organisation's social media page, was retweeted 2155 times and had garnered 2889 likes.
EXCLUSIVE: Buhari's Chief of Staff, Abba Kyari Admitted at London Hospital https://t.co/JNVKNJILeq

— RootsTv (@rootstvnigeria) March 27, 2020
VERIFICATION: Checks by POLITICS NIGERIA proved otherwise as a similar fact check had been done on his location. Although the previous article addressed a claim of Mr Kyari being moved from Abuja to Lagos, some of its evidence is still relevant.
While spokesperson to Mr Buhari, Garba Shehu denied this, sources in the health sector and also those in the presidency confirmed to this newspaper that TRULY, Mr Kyari is not in Abuja but NOT flown out of the country.
The Chief of Staff to the president has been moved from Abuja to LAGOS for treatment, fillers in the Presidency revealed. More so, if at all Mr Kyari is flown to London he would be moved through London City Airport.
Meanwhile, London City Airport has banned both commercial and private flights through to the end of April due to the coronavirus crisis since March 25.
"The airport said it has offered the use of its facilities to the government "in case it can be used to support the emergency services, military or other government agencies," Business Insider reported.
CONCLUSION: Mr Kyari is in LAGOS and not LONDON, hence, Rootstv's claim is FALSE