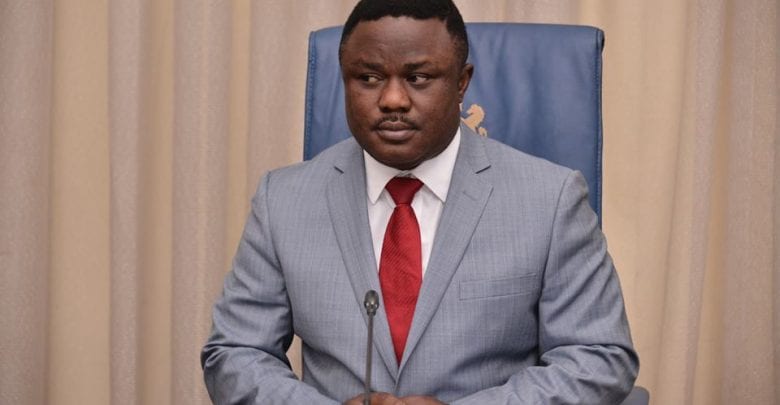 The Governor of Cross River State, Ben Ayade, on Tuesday, said there is no need to observe social distancing in preventing coronavirus, once citizens wear face masks in public.
Ayade said this while addressing some residents of Calabar, the state capital on Tuesday. A video of his address was obtained by POLITICS NIGERIA.
"I'm a professor of science and I know how this virus moves; I know its etiology, I know it transmissibility, I know its antigenicity; because I do, I know that once you put on this mask, you have already been protected," he told the audience.
"You don't need social distancing when you are properly protected because your mucal glands that secrete the mucus and the musings already form a network of coats to attack the virus."
As at the time of putting up this article, the state is yet to record any case of the pandemic.
Meanwhile, checks by POLITICS NIGERIA showed that the Cross River Governor's claim is FALSE and MISLEADING.
While it is understandable that Ayade's preaching is to enforce the use of face masks among residents of the state, there are no evidence to support the claim that social distancing is needless.
According to the official recommendation of the World Health Organisation (WHO), one should maintain at least 1 metre (3 feet) distance between yourself and anyone who is coughing or sneezing.
"When someone coughs or sneezes they spray small liquid droplets from their nose or mouth which may contain virus. If you are too close, you can breathe in the droplets, including the COVID-19 virus if the person coughing has the disease," the global health organization explained.
https://www.who.int/emergencies/diseases/novel-coronavirus-2019/advice-for-public
More so, The Nigeria Centre for Disease Control (NCDC) has on several occasions emphasised the need for social distancing as the most effective method of preventing coronavirus.
"Directives have also being issued at national and state level, to cancel large gatherings including religious gatherings, schools, events etc," the agency announced in March.
https://covid19.ncdc.gov.ng/advisory.php
This prompted the total lockdown of Lagos, Ogun and the Federal Capital Territory (FCT) by the federal government.
It should be noted that across the globe, countries are implementing travel restrictions and enforcing the stay-at-home order in order to curtail a massive spread of the disease.
However, when an expert opinion was sought, Dr Olufunmilayo, a UK-based medical practitioner, said the claim of Mr Ayade is false and uninformed.
"It is FALSE to say so. The governor is uninformed on that claim. It is wrong. Social distancing is maintaining enough distance that stops and reduces the virus spread. And it needs to be a minimum of 2metres," he stated on Thursday.
"Face masks does not mean to discard social distancing," he reiterated.