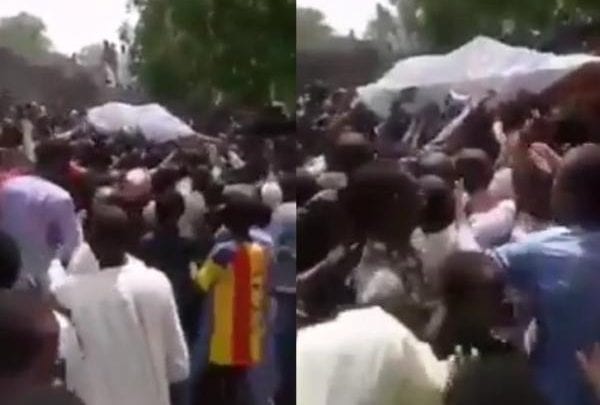 A video clip showing a multitude, purported to be the crowd present at the burial of the Emir of Rano, Tafida Abubakar Illa, has gone viral. The death of Mr Abubakar followed a chain of mysterious deaths in Kano state. Recall that no fewer than 600 people lost their lives to unexplained illnesses in the last week.
POLITICS NIGERIA reported how the 74-year-old gave up the ghost in a Nasarawa Specialist Hospital. The news about the emir's death broke about 6:00 pm on Saturday.
It was gathered that the late monarch was on Friday admitted at Mallam Aminu Kano Teaching Hospital over an undisclosed ailment before he was later referred to the Nassarawa Specialist Hospital for further medical attention.
President Muhammadu Buhari, as well as several political office holders, have commiserated with the Kano state government and the Rano Emirate over the demise of Mr Abubakar.
The video

The 21-minute clip, which appeared on Twitter around 10:00 pm on Saturday, has generated controversies amongst social media users. In the video, people numbering over a hundred were seen trooping after a dead body wrapped in white clothing. The corpse is being moved to an unknown location.
The clip caught everyone's attention after a popular social media user, Adetutu Balogun, posted it with the caption: "Emir of Rano's burial… What is wrong with Kano!". As at 1:15 am on Sunday, the tweet has generated hundreds of comments with over 700 retweets.
(https://twitter.com/Tutsy22/status/1256690912404668421)
Many blamed the violation of the social distancing restriction, one of the precautionary measures recommended by the World Health Organisation (WHO) considering the rising surge of Covid-19 in the state. Of course, the state has reported 313 cases which makes it the state with the second-highest number after Lagos state.
VERIFICATION: A thorough evaluation of the lightning of the video showed that it was shot any moment from 10:00 am to 5:00 pm. Meanwhile, as at 5:30 pm on Saturday, the monarch was still at the hospital, POLITICS NIGERIA learnt.
If perhaps any burial would take place, it would be after he was evacuated from the hospital, which will be very late on Saturday evening. Moreover, there are no indications in the clip suggesting that the corpse is that of a monarch who headed one of the newly created four emirates by governor Abdullahi Ganduje.
In addition, the Personal Assistant to President Muhammadu Buhari on new media, Bashir Ahmad, has flagged the video as fake. According to him, the late Emir was buried inside his palace with less than 20 people in attendance.
"The remains of late Emir of Rano buried inside his Palace approximately an hour ago, with less than 20 people attended the burial, but a fake video of thousands of people has been trending throughout the day, purported to be his burial, it was not, Rano Emirate official told me," He wrote on Twitter.
The remains of late Emir of Rano buried inside his Palace approximately an hour ago, with less than 20 people attended the burial, but a fake video of thousands people has been trending throughout the day, purported to be his burial, it was not, Rano Emirate official told me.

— Bashir Ahmad (@BashirAhmaad) May 2, 2020
VERDICT: Since there is no evidence to prove that the video was filmed at the burial of the late monarch, it is FAKE