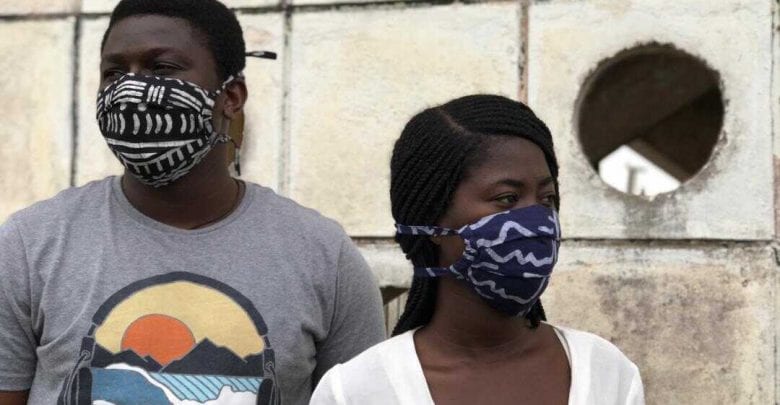 As part of efforts to curb the Coronavirus pandemic across the world, the World Health Organisation (WHO) recommended the use of face masks.
In Nigeria for instance, it has been compulsory for every household to use it and failure to comply may lead to the arrest of defaulters by security operatives.
Meanwhile, since the outbreak of the pandemic, there has been an increase in the price of pharmaceutical facemasks and the hike poses a danger to a large section of Nigerians who can hardly put food on their tables in this critical period.
Hence, the need for a new initiative, an alternative facemask which is very affordable, in comes the 'Ankara' Facemask. Although Ankara material is not indigenous to Nigeria, it has become the material for native wears in the country, especially in the South. It is 100% fine cotton fabric tightly woven in plain weave before different motifs and patterns are printed on it through various dyeing techniques.
Owing to the vastness of the Ankara fabric in the African market (Nigeria to be precise), it is easy for tailors to make face masks from pieces in their workshop and sell to Nigerians at a cheaper price. It does not have an expiry date and it is washable. It is usually sold for just N100.
Unfortunately, there have been different conspiracy theories online and among many folks claiming that it is wrong for healthy people to wear face masks during the COVID-19 pandemic, in fact, emphasis has been laid on Ankara facemasks.
"Dr. Russell Blaylock warns that not only do face masks fail to protect the healthy from getting sick, but they also create serious health risks to the wearer. The bottom line is that if you are not sick, you should not wear an Ankara face mask", a WhatsApp message obtained by POLITICS NIGERIA read.
Verification
As often done with every erroneous report, this newspaper carried out an independent check on the claim rubbishing the use of Ankara face masks. While there is no evidence to back the conspiracy theories and the particular harm that may arise from the use of local face masks, POLITICS NIGERIA reached out to experts.
A medical practitioner in Lagos, Taiwo Suraj, disclosed that no harm can occur from the use of Ankara face masks since it does not affect breathing.
"It is so glaring that the very old face mask is not in circulation at the moment due to an increase in the number of demands. So, it is a wise thing that people find an alternative and it is used even by government officials. There is no any empirical evidence that Ankara face masks will hurt or is risky for use. That claim is not substantial"
A consultant at Royal Hospital, also in Lagos, Funke Ajayi, told POLITICS NIGERIA that "mask is mask regardless of the materials except for children under the age of two and people with breathing problems."
The Centre for Disease Control (CDC.gov) also advises the wearing of cloth face coverings in public settings where other social distancing measures are difficult to maintain (e.g., grocery stores and pharmacies), especially in areas of significant community-based transmission.
The Apex health organization also recommends the use of simple cloth face coverings to slow the spread of the virus and help people who may have the virus and do not know it from transmitting it to others.

Conclusion
Considering the above findings, it is FALSE to state that the Ankara facemask will harm its user or not protect the user from the COVID-19 Virus.