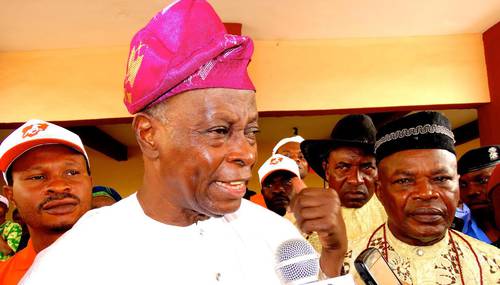 According to the former Secretary to the Government of the Federation (SGF), Olu Falae, the current 2019 election in the country was a farce. Olu spoke with the Sun Newspaper in an interview politicians were more worried about themselves, than servicing the people.
The Alliance for Democracy (AD), 1999 presidential candidate said, a farce of election was held in the country, where votes where bought freely in the political market. He added, "The country will no longer be democratic if things go on like this. When you have money over politics, how are leaders chosen to rule over the country."
According to him, "A game of metrics is being played, and politicians do not bother about the development of the nation. No longer, we hear about manifestoes because they are not afraid of the people's verdict."
He also added that "Politicians do not talk about infrastructure, health, culture, and overall development anymore. They just contest the elections. The power of money is ruling vastly, not democracy."
The 1999 presidential candidate said, "Money plays an important role in any election. When it is put to good use, good things can come out of it. For example, people can have homes, food to eat, and children can have a good education."
He justifies that, when he ran for the presidency, he managed to raise n600 million in Eko Le Meridian Hotel in Lagos. The money was got in public and spend for proper use. They spend on various political agendas.
"Money must not be used to purchase votes. It should be used for public welfare. The money should not be used for bribing the police, INEC officials, and others who are playing important roles in the election."
"Unfortunately, that is where all the money is going now. Political leaders are just swallowing the money and hence the term monetics. Leaders do not want to serve anymore but are looking for ways to earn more money."