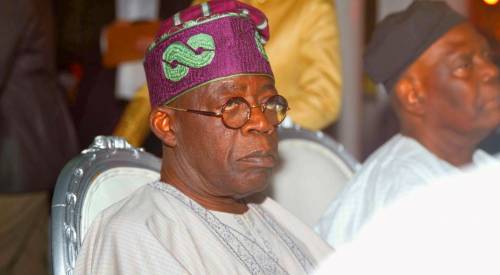 The Director of New Media for the Bola Tinubu/Kashim Shettima Presidential Campaign Council (PCC), Femi Fani-Kayode, on Friday said insinuations that the northern governors on the platform of the All Progressives Congress (APC) will betray the party's presidential candidate, is false.
POLITICS NIGERIA reports that Tinubu's main route to the presidency in 2023 is predicated on him winning the largest chunk of the votes in the north as winning the South West alone would not in any way give him the prize; the lifelong ambition of becoming the president of Nigeria.
The presidential candidate of the ruling APC is banking on the fourteen governors from his party in the north to take him across the finishing line in 2023. But there are suggestions that the Northern APC caucus will betray Tinubu at the last minute.
Fani-Kayode wrote on his verified Twitter handle: "The declaration of support that @officialABAT will get from 6 (not just 5) Governors from the @OfficialPDPNig this January will finally put to rest the pitiful delusion that @atiku stubbornly harbours about winning the 2023 presidential election. His eyes will soon clear.
"Those that still suffer from the illusion that he will win the election base their confidence & hope on two premises. Firstly that the Northern Governors and @MBuhari will turn their backs on and betray Tinubu at the last minute and secondly that even in the event of them sticking with BAT, that they are so unpopular in their various and respective states that they will not be able to carry their people along. Both of these premises are FALSE!
"They are nothing but the desperate wishes, barren hopes & futile prayers of a vainglorious, giddy, confused and long-dead opposition that have lost touch with reality. Not only will the Northern Governors of the APC and PMB honour their word and hold the line but they will also carry their people along with them in an eloquent, compelling, historic, resounding & overwhelming manner.
"Unlike PDP, APC is not a party of arrogant, boastful, delusional, ungrateful & relentless backstabbers, traitors, bigots, hegemonists & incurable irredentists who are wholly incapable of honoring their word, who never reward loyalty, who have sought to belittle and destroy anyone and everyone that has supported them and saved them from falling over the brink and who are firmly on the path of self-destruction.
"The massive support that Asiwaju will receive in the North & indeed all over the country will sweep away all doubts, secure him a resounding victory, cement our national unity, make Nigeria whole again & usher in a new & refreshing era of hope, security, progress & prosperity."