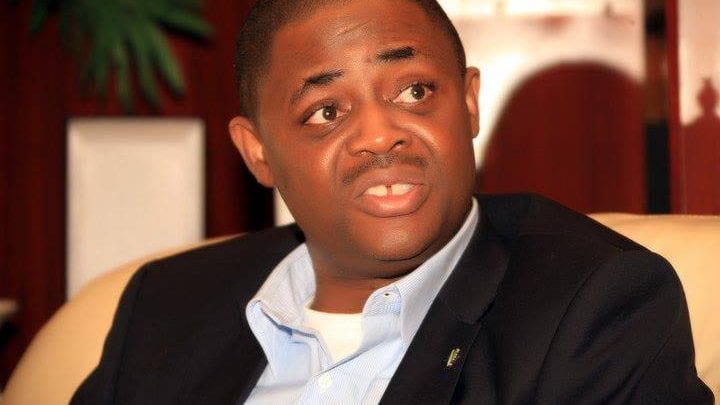 Femi Fani-Kayode, a chieftain of the ruling All Progressives Congress (APC) on Saturday asked security agencies to "beef up security at the airports and keep an eagle eye on all passengers".
POLITICS NIGERIA reports that Fani-Kayode's call comes following the arrest of a protesting male passenger. The man was carried off an Abuja to Lagos flight on Ibom Air on Friday evening after declaring that the President-elect, Bola Ahmed Tinubu, must not be sworn in.
The traveller stood in the middle of the plane and raised his voice, saying that the ALC leader must never be sworn in. According to him, there would be "war" if Tinubu is sworn in as Nigeria's next leader.
The airport security authorities were called before he could be evacuated after holding up the aircraft for more than an hour, as the 6pm flight was yet to move as of 7pm.
In a video seen by this newspaper, the Federal Airports Authority of Nigeria (FAAN) security officers could be seen carrying the middle-aged man off the plane, as he kept shouting, "Obidients, you're here. They are doing this to me. Obidients you're here, I am naked. Obidients you're here, I am going naked."
He was later handcuffed.
Reacting to the development, Fani-Kayode said Labour Party supporters are only "testing the waters for something bigger".
He wrote on his social media pages: 'The Obidient that got on the plane yesterday and disrupted the flight whilst shouting that Asiwaju would never be sworn-in as President is nothing but a terrorist and I believe that he and those who sent him were testing the waters for something bigger.
"I commend the staff of FAAN and the security agencies for dragging him off the plane before it took off. They saved many lives by doing so.
"His violent behaviour and abusive words which traumatised many that were on the flight accurately reflects the mindset and attitude of the Obidients: they are frustrated, violent, dangerous, angry and capable of doing anything to achieve their purpose.
"Worst still they seek to destabilise our country and subvert the democratic process and the rule of law.
"Simply put they are dangerous anarchists and if they are not restrained and put in check by our security and intelligence agencies they will end up endangering the lives of many Nigerians, aborting our democracy and destroying our country.
"Peter Obi and Dati the Daft have encouraged and endorsed their violent and subversive behaviour with their inciting comments and utterances and we hold them accountable.
"If it is not Dr. Ezeife saying they will make Nigeria ungovernable if Asiwaju is sworn-in or some misguided Eze in Ajao Estate, Lagos saying they will call IPOB to defend the Igbos of Lagos state then it is Chief Iwanyanwu calling Yorubas rascals. How much more of this can we take?
"The actions of the mad terrorist on the plane stand condemned and I can only thank God that he did not have a weapon otherwise things could have been far worse."
Fani-Kayode added: "I call on the security agencies to beef up security at the airports and keep an eagle eye on all passengers.
"I also call for restraint even in the face of these provocations.
"We must maintain the peace and ensure that our unity is sustained.
"We must not allow them to provoke us into responding in an irrational, violent, unlawful or unreasonable manner.
"We must be prayerful, focused and calm and we must ensure that nothing disrupts the stability, peace and unity of our nation or the swearing in of our President-elect."