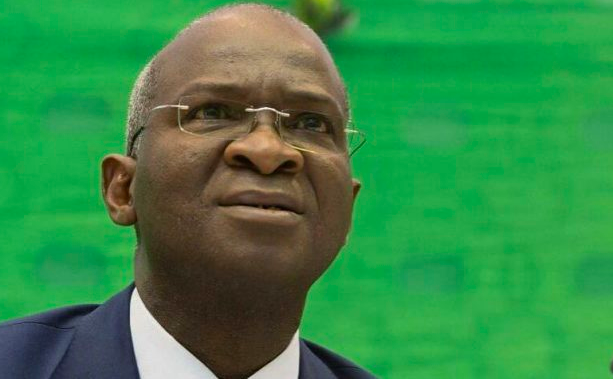 The Minister of Works and Housing, Babatunde Fashola, has blamed former President Olusegun Obasanjo for the weak infrastructural facilities in the country.
Speaking during an interview on Channels Television, the former Lagos state governor said that the former President should have build roads, rails, bridges, and other capital projects across the country while he was in power, instead of paying off Nigeria's external debts.
Fashola also accused Obasanjo of under-investing in the country's infrastructure despite having access to a large sum of money such as the $12 billion Paris Club Fund, but rather was pursuing debt cancellation as state policy.
He said: "At one time in this country, in 2005, we had $12 billion. At that time, these roads were bad. At that time there was no rail. But what did we do as a matter of state policy, it was just to pay creditors to our own detriment.
"I can only imagine if I had the opportunity then with $12 billion in my hand, we would have built rails and roads. What this government is dealing with, which I am responsible for the roadside, is the infrastructure that will be enduring.
"Without the rails, we will not have roads that last. Trucks and heavy cargo is not meant for our roads. The jurisdictions we want to be like, don't transport cargo, containers on their roads. That's why I am so optimistic about tomorrow that if we advance this significantly, there will be a better tomorrow.
"We lost the opportunity to invest $12 billion and then we went back to borrow and the problems haven't gone away and they will have to be dealt with."
The minister noted that the Buhari government was not in anyway mortgaging the future of the nation's children by its external borrowing, saying that the government was only building for tomorrow's children.
He added that the current administration would continue to do its best to ensure that the country's infrastructure is developed.
He said: "Every generation that's responsible enough like us must position for tomorrow's children. We should not leave this for them to come and do because it will be more expensive.
"That said, I think the way to go is to say that at the appropriate time, a tolling policy will be developed because for you to toll you must ordinarily develop alternatives. The government must also understand that not all of its infrastructure is of a commercial kind."