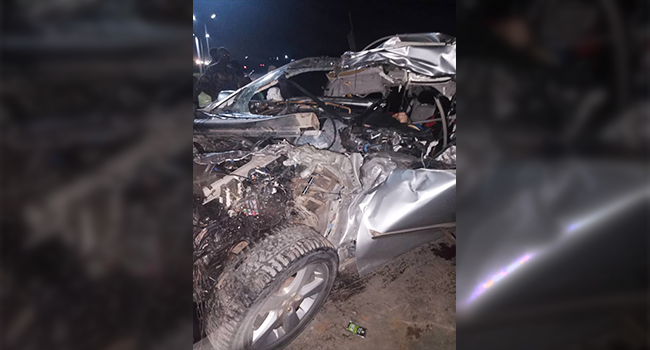 A tragic incident along the bustling Lagos-Ibadan Expressway has claimed four lives near Mountain Top University.

POLITICS NIGERIA reports that the Ogun State Sector Command of the Federal Roads Safety Corps (FRSC) has officially confirmed this devastating news, revealing that two other individuals miraculously survived unscathed.

According to Florence Okpe, the Chief Routes Commander and Public Education Officer of the sector, the fatal crash took place during the early hours of Saturday and involved two vehicles. The first was a Lexus RX350 bearing the registration number KTU738HM, while the second was a Mack Truck identified as T21024LA.

Out of the six individuals involved in the collision, four sadly lost their lives, while the remaining two escaped without injury.

Okpe emphasised that excessive speed and the use of a mobile phone while driving were the primary factors suspected to have caused the tragedy. These negligent actions resulted in the Lexus SUV driver losing control and colliding with the moving truck.

The victims' bodies have been respectfully placed in the morgue of Real Divine Hospital in Ibafo.

Urging motorists to heed caution, Ahmed Umar, the FRSC Sector Commander of the Ogun Sector Command, emphasised the dangers of using phones while operating a vehicle.

Umar extended his heartfelt condolences to the families affected by this devastating incident. He encouraged them to contact the FRSC Ibafo Outpost for further information regarding the crash.