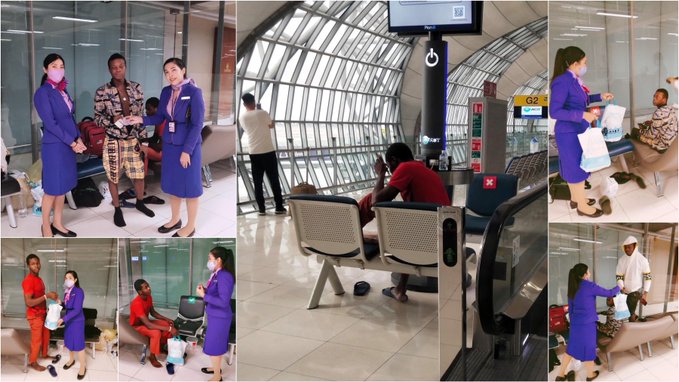 The three Nigerians, who have been stranded in Suvarnabhumi Airport, Bangkok, Thailand, for two months, would return home soon, the Federal Government has said.
In a tweet via its Twitter handle on Wednesday night, the Nigerians in Diaspora Commission (NIDCOM) said the Nigerian Embassy in Bangkok has contacted the three nationals who have been trapped at the airport since March due to airport closures occasioned by the pandemic.
According to Thai airport authority, the Nigerians have been trapped at the Airport Terminal for two months. They could not travel back to Nigeria as the FG had shut the country's airspace and airports in late March. They could not also enter Thailand also as they were only in transit and didn't have visas for Thailand.
Consequently, the Airport official said they have been providing assistance such as food, drinking water and basic care to the three persons, adding that they tested negative for coronavirus.
Reacting on Wednesday night, NIDCOM said, "Three Nigerians stranded in Bangkok, Suvarnabhumi Airport, Thailand with Nigeria Consular officer (in a black jacket) and a Thailand Immigration Police. Our embassy in Bangkok is in touch with them and they will return home safely."
UPDATE
Three Nigerians stranded in Bangkok, Suvarnabhumi Airport, Thailand with Nigeria Consular officer (in a black jacket) and a Thailand Immigration Police.

Our embassy in Bangkok is in touch with them and they will return home safely

Hat tip to @RichardBarrow for his tweet.

— Nigerians in Diaspora Commission (@nidcom_gov) May 20, 2020