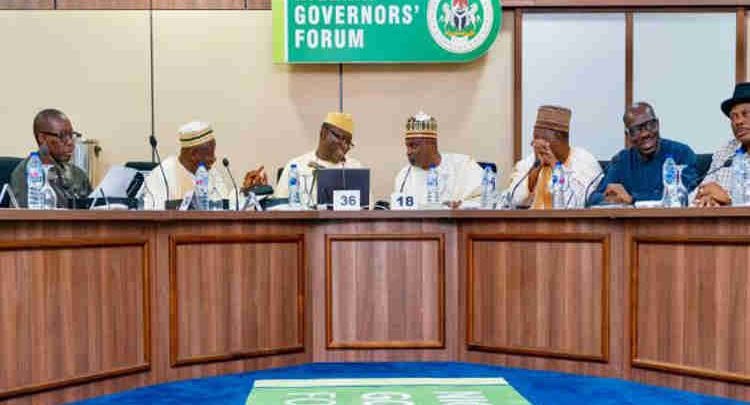 The Nigeria Governors' Forum (NGF) has proposed the compulsory use of face masks across the thirty-six states in the fight against the spread of coronavirus.
The country has been battling the scourge of the pandemic since February. It has recorded 1059 Covid-19 case across 21 states and the Federal Capital Territory, Abuja. As of the time of filing this report, 32 Nigerians have died of the virus while 208 persons have recovered and had been discharged.
Meanwhile, in a letter signed by the chairman of NGF, Ekiti state Governor Kayode Fayemi, the forum proposed five things to the Presidential task force on COVID-19 headed by the Secretary-General of the Federation, Boss Mustapha.
The letter dated 24th of April was obtained by POLITICS NIGERIA on Saturday.
"Please refer to the above subject matter and to our Teleconference meeting with the Vice President on Wednesday, 22 April 2020."
"Recall at that meeting, it was agreed that the Nigeria Governors' Forum (NGF) articulates the issues that it would want to be included in the next Presidential Pronouncement on Covid-19 so as to have a Uniform and Coordinated Policy on Covid-19 at both the national and sub-national levels."
The letter further read that the NGF would want President Muhammadu Buhari to consider an inter-State lockdown excluding movement of essential supplies – foods, beverages, medical and pharmaceuticals, petroleum supplies and agricultural products.
Other demands include: "Internal free movement but with restrictions on large gatherings and assemblies; Overnight curfews; Lockdown of flights and compulsory use of face masks/coverings in the public.
It should be noted that President Buhari had pronounced two weeks cessation of movement twice in Lagos, Ogun and Abuja, which he described as high-risk states.
Some Governors have also declared curfew in their respective states and imposed the use of face masks in public places.