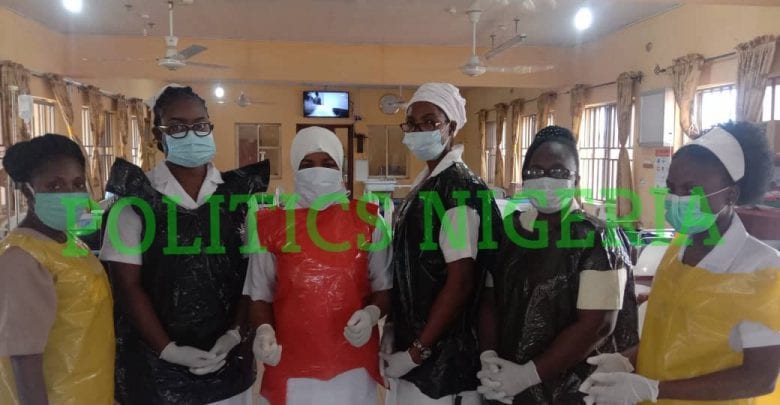 The management of Federal Medical Centre, Idi-Aba, Abeokuta, has reacted to a recent report of nurses wearing polythene bags having suspected two cases of Covid-19.
The report which was exclusively reported by POLITICS NIGERIA on Monday had it that some of the nurses improvised with the waste bags after they were denied Personal Protective Equipment (PPE) by the management on Monday.
It should be noted that the PPE is the recommended protective gear for health workers dealing with infectious diseases. This newspaper reliably gathered that the two women suspected to have contracted the respiratory disease on Monday were admitted at the female medical ward of the hospital.
Recall that a pregnant woman died of Covid-19 in the hospital last Saturday and a 97-year-old recently admitted tested positive to the virus too. The non-provision of the necessary equipment has been condemned by many Nigerians with the picture making rounds.
When contacted on Monday, the management promised to investigate and get back to our reporter.
However, in a statement of Tuesday, the management of the hospital debunked the report.
"An on-line medium, Politics Nigeria had in it's Monday edition made a spurious, malicious and unfounded assertion that Nurses in the Centre were wearing polythene bags to treat suspected COVID-19 patients."
According to its spokesperson, Segun Orisajo, although the hospital's internal investigation revealed that a group of nurses were involved in transferring some patients in the ward, they were wearing disposable aprons which come in different colors nowadays.
"They are usually worn before the long-sleeve gowns are donned as a further layer of protection from soilages and spillages. They may also be used during short procedures to prevent soiling their uniforms," Mr Orisajo said.
Meanwhile, a forensic check by this paper revealed that the hospital management misrepresented facts in the rebuttal.
Although there are disposable gowns which are worn, none of the description of a disposable gown fits into what FMC nurses wore on Monday.
For example, all the disposable gowns made have neatly-cut edges and are longer than the knee-level.
More so, over six health workers contacted on Tuesday, said they have never sighted yellow or red disposable gowns as claimed by the hospital management.