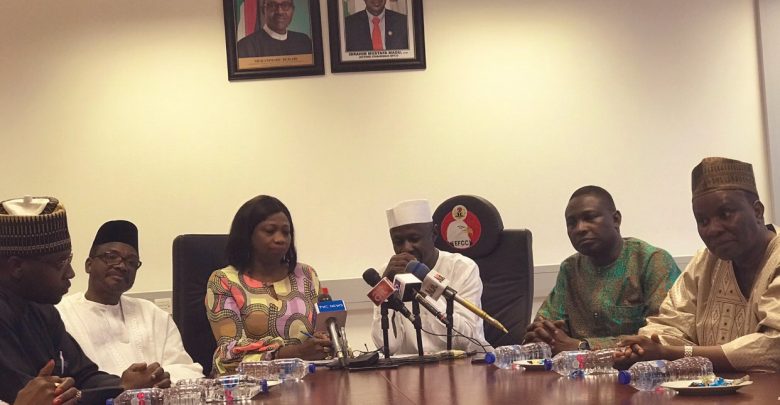 Chairman/Chief Executive Officer of the Nigerian Diaspora Commission (NDC), Abike Dabiri-Erewa has described the case of 77 Nigerian suspects involved in massive wire fraud schemes in the United States as embarrassing.
Dabiri-Erewa expressed her disappointment on the development when she visited the office of the Economic and Financial Crimes Commission (EFCC) on Friday.
Dabiri-Erewa, who noted that Nigeria is not a country of 419 people, said they remain suspects until proven guilty by a court of law.
"It is a court indictment, they will have to go to court, they have to be tried but we are demanding fair trial for them and good consular services for them.
"And we really need to affirm that they are not all Nigerians. But it is a very embarrassing situation to have out of 80 people (suspects) 77 from Nigeria allegedly. Just last week, there was a cybercrime case with a young Nigerian too."
While noting that the situation has put a dent on the image of the country, she pointed that that is not who Nigerians are as a people, saying a few people committing crime should not tarnish the image of the country of 200 million people.
"So we'll keep emphasizing that we are not going to accept the stereotype.
"However, we want the whole world to see that we are doing something about cybercrime that's why we are here at the EFCC to say Nigerians in the Diaspora count on you to tackle cybercrime effectively as they tackling corruption in Nigeria so we hope that EFCC will ensure that even those ones in Nigeria will not be supported. We said just go voluntarily if they need you and I'm sure Nigeria will support their extradition if they so ask."
She, therefore, reassured the EFCC Acting Chairman, Ibrahim Magu that the commission will partner with the anti-corruption agency in tackling the case.
"So Mr. Chairman, we just want you to reassure the world that we are not a nation of 419ners because we have an EFCC that is doing everything possible to put a stop to the menace."
"The Commission will be working with the EFCC to have a special desk to tackle cases like this whether it is about fraud or any other related issues. So we have a desk with EFCC for Nigerians in the Diaspora to complain to whether you've been cheated or otherwise and I'm sure EFCC can provide those answers to this problem," she said.
On his part, Magu declared the agency will fish out some of the 77 suspects involved in massive wire fraud schemes in the United States, noting that the agency has been cooperating with FBI on cybercrimes.