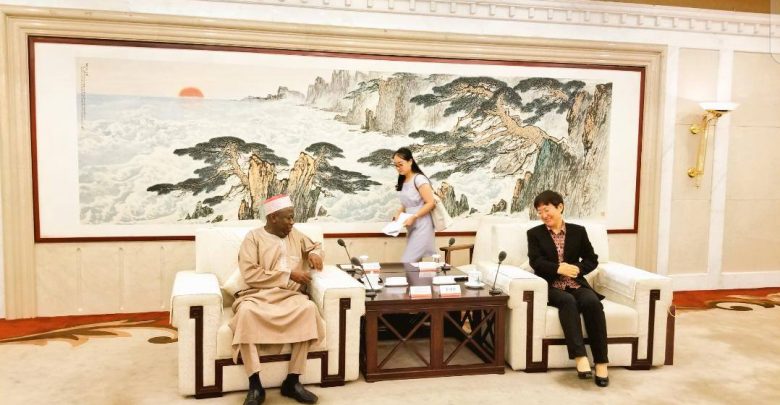 The Governor of Kano State His Excellency Dr. Abdullahi Umar Ganduje OFR today, held a meeting with the Vice Governor of Shandong Province of China, Madame Wang Suilian and other top government officials of the province.
Governor Ganduje briefed the Vice Governor of Shandong Province on the purpose of his visit to China, which is to sign an MoU with Ruyi Group for the establishment of a $600Million Textile Industrial Park, and another MoU with INSPUR IT company as well as meet with other companies that are willing to invest in Kano, all of which are from her province, Shandong. He added that both Kano and Shandong stand to benefit immensely from this bilateral co-operation between them, and will open doors for greater collaboration in the future.
On her part, Madame Wang Suilian welcomed the Governor and his delegation to her province, and said that she had prior to the arrival of the Kano delegation read a lot about Kano State, and had interacted with some of the companies already doing business in Nigeria and Kano in particular, saying that all the stories she heard are encouraging for a mutually beneficial relationship between them.
She also stated that both Kano and Shandong have many things in common ranging from high population, to agriculture and rich historical background. She assured the Governor that she will give companies from Shandong that are willing to do business in Kano, all the necessary support in order to encourage them to establish their investments in Kano State.
Madame Wang Suilian then hosted Governor Ganduje, his wife and other members of the Kano delegation to a dinner with Shandong Province's top government officials.