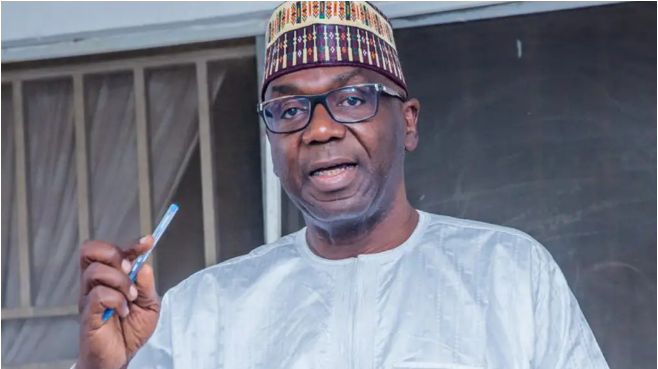 Kwara state governor, AbdulRahman AbdulRazaq, has inaugurated his cabinet with 50 percent female commissioners and permanent secretaries.
This is the highest number of females appointed by a governor to serve in the state executive council. 
Among those sworn in by Governor AbdulRazak are two Persons Living With Disabilities (PLWDs) as permanent secretaries.
He said their choice as cabinet members and public servants is a product of wide consultations, merit, and careful consideration for public good.
"The last four years have seen us stabilising and repositioning different sectors of our society. Our achievements are boldly written in education, urban renewal projects, rural development, healthcare delivery, provision of potable water, gender mainstreaming and youth empowerment, and general welfare of the people especially through the safety net programmes and other interventions. The Kwara socio economic climate has proven resilient against all odds."
He congratulated them for being part of his new team who are entrusted to work for the public good.
"With prudence and blockage of wastes, we have grown internally generated revenue to a height never seen before. Similarly, several projects of huge socioeconomic impacts have been initiated to bridge existing infrastructural gaps and make Kwara the go-to place in Nigeria amid improved access to basic amenities and better welfare for the public workforce," he said.
"But we are now faced with a new set of challenges. With fuel subsidies gone and the government mobilising resources to stabilise the system amid rising cost of living, we are committed to helping the people cope through empathy and creative solutions.
"As cabinet members and senior bureaucrats, you are to join the government to make life a lot better for the people through the design and implementation of various policies and programmes and exemplary conduct in public leadership. Neither waste, abuse, sabotage, nor intentional disregard for public good will be tolerated. Our appetite and public appearance must also reflect the current realities of our country.
"I therefore congratulate all of you for being part of this important team. Endeavour to be good team players who would collectively and individually earn the trust and respect of the public with exemplary conduct and commitment to the larger interest of our state and country."